DISCOGRAPHY - LP's / CD's

BIGGER THAN AMERICA
---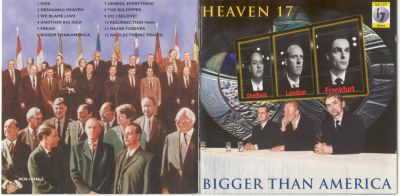 Go to Lyrics
---
CD Germany WEA 833 (0630-16346-2) 20Sep1996 or 16Oct1996 (released in the UK 10Mar1997)

CD Japan WPCR905 WEA 4943674090525 UPC #0630-16452-2

CD US Cleopatra Records CLP0187-2 20Jan1998 (741157018721)
---
1. Dive (4:28)
2. Designing Heaven (5:13)
3. We Blame Love (4:47)
4. Another Big Idea (4:55)
5. Freak! (4:07)
6. Bigger Than America (3:58)
7. Unreal Everything (4:08)
8. The Big Dipper (4:55)
9. Do I Believe? (4:55)
10. Resurrection Man (4:04)
11. Maybe Forever (4:40)
12. An Electronic Prayer (4:41)
---
All titles written and performed by Gregory, Warsh, Ware.

Another BEF production

Glenn Gregory - Programming and Vocals
Ian Craig Marsh - Programming and System 100
Martyn Ware - Programming and Synthesizers

Angie Brown - Backing vocals

Mixed by James Reynolds and BEF, Recorded at The Institute of Sonology, Primrose Hill and Red Bus Studios, London
Mixed at Strongroom Studios, London
Mastered by Simon Haworth at Chop-Em-Out
Recording engineers Andy Houston at Red Bus, James Reynolds at Strongroom
Assistants Linda at Red Bus, Patrick Mcgovern and Gareth Parton at Strongroom

Cover concept Ian Craig Marsh and Ray Smith, Paintings Ray Smith
Photography Mike Owen and Ray Smith
Infography Ian Craig Marsh
Design, Typography and Logos - Bull Rodger, Dog - Oscar

Thanks to Stephen Budd at SBM, Boyd, Pam, Alex, Ray, Konrad, Michael, Luca, Angel, Fabiana, Nial, Lindsay, Claudia and Landsley

All titles published by Notting Hill Music/Warner Chappell

Representation by Stephen Budd Management

If you require further information contact out information service 'The World of Heaven 17' or email us direct on martware@atlas.co.uk

Martyn would like to dedicate this album to Kathleen Ware and her replacement on this earth Elena Landsley Kathleen Ware.
---
The perfect description of this album by Music Master Online:
Heaven 17 are back with a new album after an eight-year sabbatical. Musically, BIGGER THAN AMERICA, marks a return to the electronic roots that initially made them an influential group. Lyrically it will raise as many questions as their radical albums, Penthouse And Pavement and the Luxury Gap. Sounding much as they did many years ago, this is sharp, social comment you can dance to.
---
Japanese release
with extra tracks

13. Bigger Than America (Version) (4:09)
14. Theme From Unreal Everything (3:52)
15. Trans European Heaven (4:48)
16. Moroder's Subterranean Heaven (Re-mixed by Georgio Moroder & Chris Cox) (5.41)


Insert with all lyrics and a short history
(in Japanese)
---
US release
with extra tracks

13. Designing Heaven (Mies Van Der Rohe Mix) (Giorgio Moroder's Subterranean 12") (5:45)

14. Designing Heaven (Den Hemmel Designen) (Remixed by Gregorio for Stephen Budd Management) (4:14)

The inside of the booklet is in b/w only, spacings are a little bit smaller and all cover and booklet front and backs are different...


Front of booklet


Back of CD


Back of booklet


CD
---
Record Store Day 2019 release
Orange vinyl


Front of booklet