HISTORY
The very beginnings of Heaven 17 - from Retox/Detox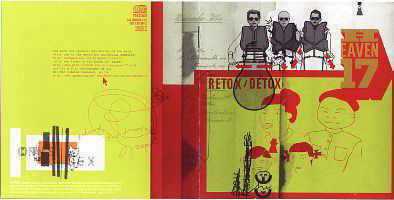 ---
Heaven 17 (the name is taken from a record sleeve featured in the film 'Clockwork Orange') can be traced back to 1972. Ian Craig Marsh first met Glenn Gregory at a small Sheffield theatre group, then a year later Martyn Ware joined the same group. All three shared a love of Roxy Music, Bowie and American funk bands Parliament and Funkadelic, but it was the early German electronic pioneers like Kraftwerk and Tangerine Dream who inspired Ian to build his own synthesizer.
After struggling with Ian's home-assembled machine ("it made very good motorbike noises") he and Martyn scraped together the cash for Roland and Korg synthesizers and began experimenting with rudimentary recording equipment. In late 1977 they were joined by vocalist Phil Oakey (who had been to school with Martyn) and adopted the name Human League, releasing their first independent single "Being Boiled" in 1978.
After two albums for Virgin ('Reproduction' and 'Travelogue') Human League looked to be on the verge of the big time. However, relations between Ware and Oakey hat deteriorated and in October 1980 the band split in two. Oakey and Adrian Wright retained the name, while Ware and Marsh formed the British Electric Foundation. BEF was initially intended as a production company which would introduce and produce a series of different artists. The first was to be Heaven 17.
Martyn asked Glenn, who was living and working in London at the time, if he would work with BEF. Glenn headed back to Sheffield to begin recording the soon-to-be-hit "(We Don't Need This) Fascist Groove Thang".
It was an extraordinary situation. Because Human League had owned their own recording equipment both new bands were working alternate shifts recording demos for two of the most important and influential albums of the early 80's - Heaven 17's 'Penthouse & Pavement' and Human League's 'Dare'. Both albums are recognised not only as astute comments on the time, but as classic pieces in their own right.
In 1982, BEF released 'Music Of Quality And Distinction Vol.1' featuring guest vocals from Tina Turner, Sandie Shaw and Gary Glitter, as well as Glenn Gregory. A year later Ware helped produce Tina Turner's "Let's Stay Together" which became her first hit for a decade and helped kick start a career which flourishes to this day.
Throughout the 80's Heaven 17 continued on the path set by 'Penthouse' releasing 'The Luxury Gap', 'How Men Are' and 'Pleasure One', selling bucket loads of albums around the world and having hit singles, including 'Let Me Go', 'Play To Win', 'At The Height Of The Fighting', 'Come Live With Me' and, of course, the seminal 'Temptation'.
The band members eventually began to work separately. Glenn worked with ABC singer Martin Fry (Glenn later co-wrote and co-produced ABC's 1998 'Skyscraping' album) and a band called Ugly. Ian helped out with programming on various projects, and in 1992 BEF released 'Music Of Quality And Distinction Vol.2' once again featuring Tina Turner, this time alongside Mavis Staples and Chaka Khan.
Martyn Ware built a second career as one of the UK's most in-demand record producers, producing (amongst others) Terence Trent D'Arby's massive 'Hardline' album, Erasure's number 1 album "I Say, I Say, I Say", hits for Marc Almond, Shabba Ranks and more recently Alison Moyet, Connor Reeves, Pauline Henry, Lena Fiagbe and Joe Roberts.
In 1994 'Temptation' was remixed and re-released and became a world-wide smash single all over again, fax exceeding its original sales. The band proceeded to write together again; "we never really split up," explains vocalist Glenn Gregory. "After our last album, we just decided not to do any recording for a bit ... and the bit lasted eight years. We all thought that we'd have different conditions for starting again, bit it turned out that everyone thought the same. We all wanted to get back to where it started, which was electronic."
In 1997 the band released 'Bigger Than America' on the Eye Of The Storm label. Unfortunately, the label closed a month before release and the record was not promoted; however, if you search very hard you may be able to get a copy - one song from it "Designing Heaven" is included here in its remixed form by Giorgio Moroder. To promote the album the band had planned to do something that they had never done before - tour. They initially supported Erasure, but carried on when the label closed without the support of a record company. They discovered that they loved playing live and subsequently completed their own sell-out UK tour later that year.
1998 has seen the band collaborate with a variety of artists, many of whom are fans of this album. At the time of writing they are in the process of recording a new album which should see the light of day in early 1999.
Heaven 17 - "Trust us, We're Entertainers" - June 1998