HISTORY
History as written in CD "The Best of Heaven 17"
Virgin 863062 released 1992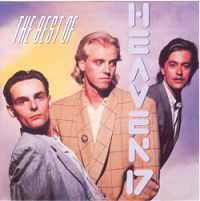 ---
Heaven 17 were formed in 1980 by Ian Craig Marsh and Martyn Ware (both Ex-Human League) and Glenn Gregory, who they met at Sheffield's Meatwhistle Drama Centre.
The group put out it's debut single in march 1981. The title '(We Don't Need This) Fascist Groove Thang' overcame an initial BBC Radio ban (because of the title) to reach 45 in the charts. It was not a major success but it established H17's musical credentials as well as their political direction.
Their follow up single 'I'm Your Money', was released in may but, failed to chart and their third single 'Play To Win', released in august, stayed in the charts for seven weeks but only reached as high as number 46.
In October, the group released it's debut album acclaimed 'Penthouse And Pavement'. It was their first real success and reached number 14 in the charts. However, single success still escaped them, the title track from the album peaked at 57 and the following February, their first single of 1982 'At The Height Of The Fighting (He La Hu)' completely flopped. This excellent piece of White-Funk was a re-recording from the album with jazz-funk band Beggar & Co.'s horn section beefing up the sound.
At this stage, H17 was put on 'hold' whilst Ware and Craig Marsh took on their alter ego of the B.E.F. (British Electric Foundation). In April 1982 they released 'Music Of Quality And Distinction'. It featured an array of contemporary (Billy Mackenzie) and established (Sandie Shaw, Gary Glitter) talent covering an assortment of classic pop oldies. Glenn Gregory also sang on two tracks, one of which was his interpretation of Glen Campbell's 'Wichita Lineman'. The album reached 25 in the charts. The three once again resumed recording as H17 and the first few offering from these sessions was the single 'Let Me Go'. This narrowly failed to give them their first top forty hit, peaking at 41 in November 1982.
At last, in may 1983, H17 achieved the major success they so richly deserved. 'Temptation' on which Glenn Gregory dueted with ex-Isaac Hayes backing singer Carol Kenyon, reached number 2 in the charts. It pushed the band into the eyes of the British record buying public and the 'Luxury Gap' album peaked at number 4. This featured a host of great talent such as John Wilson and Ray Tussell on guitars, Nick Plytas on piano an the Earth, Wind and Fire horn section.
June saw the release of the moody 'Come Live With Me' which gave them another top 5 hit and when in September they hit the top 20 again with 'Crushed By The Wheels Of Industry' it seemed that they could do no wrong.
Even though no more of their own recorded work was released that year, individual band members still maintained a high profile with Martyn Ware co-producing Tina Turner's first solo hit 'Let's Stay Together' and Glenn Gregory providing backing vocals.
In September 1984, H17 released their first single for almost a year. 'Sunset Now' was a light, upbeat number that reached number 24 in the charts. The following month, their third album 'How Men Are' was released, reaching number 12 and staying in the charts for nearly three months.
One of the album's other choice tracks 'This Is Mine' was quickly released at the end of October 1984 and gave the band their fifth consecutive Top 30 hit, peaking at number 23.
A third track '... (And That's No Lie)' was released in January 1985. It only reached 52 and was therefore the first single to fail to reach the top 40 in over two years.
In July 1986, the retrospective 'Endless' album followed the April release of the single 'The Foolish Thing To Do'. It contained the hit singles, a H17 megamix and new versions of 'Let's All Make A Bomb' and 'Song With No Name'.
In November 'Pleasure One', the group's first new recording for over two years was released and the single released in January 1987, 'Trouble', reached 51.
Their final album 'Teddy Bear, Duke & Psycho' was issued in September 1988 and a success story of over five years was ended.
However, what H17 should be remembered for is the hugely enjoyable singles they provided us with, from their first three albums. All those tracks are featured together for the first time on this retrospective album, Be Tempted and enjoy the Luxury !
---