HISTORY
REDESIGNING HEAVEN
A Brief History Of Heaven 17
in "HOW LIVE IS"
(and how this album came about)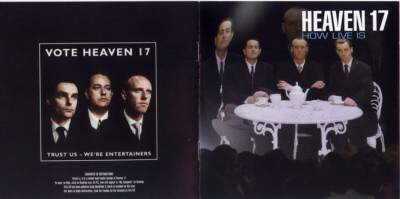 ---
When the Human League (Mk1) split up in October 1980, it didn't take Martyn Ware and Ian Craig Marsh long to start raising people) eyebrows. Forming a company instead of another band? But Ware (who insisted that it was the least hypocritical way for a group to make a living) and Marsh (who was the band's accountant until as late as 1983) had a better grasp of economic realities than most, and they were ready to apply it to what they really wanted to achieve: applying their all-synthesizer approach to the music they loved - soul and funk.
And so the British Electronic Foundation came into being: a production company organised along business lines, with Heaven 17 as its first subsidiary. "Heaven 17 is a 100 percent serious attempt to he incredibly popular," Martyn explained at the lime, "whereas BEF is no less serious but tends to he involved with more experimental projects." The Heaven 17 vocalist was to be Glenn Gregory who, it turned out, was no stranger.
"I used to go to this arty drama project called Meatwhistle in Sheffield," Glenn told Smash Hits. "That was where I met Ian. He was weird, even then. He had a long, very odd fringe that sort of curled at the front, and he was totally unreliable, but he did have a synthesizer that he built from a kit. It was useless."
Martyn, meanwhile, had been working as a trainee manager at Sheffield and Eckershall Co-op. "A friend took me down to Meatwhistle. I walked in wearing while flares, white t-shirt, silver platform boots with five-inch heels and a diamante cat collar. We're talking heavy Kiss now, that was the image. Gary Glitter. T Rex."
"I knew immediately we'd get along well," Glenn quipped. "I was wearing jeans with 24-inch bottoms end gold baseball shoes."
Glenn and Ian formed group called Musical Vomit who played the Bath Arts Festival, performing such unrecognised masterpieces as "Denim Mind" and "Whip King Of Mars" to unappreciative hippies. Poly Styrene of X Ray Spex later declared them the first punk band ever. "Remember this was 1972," Martyn adds.
Early variations of Heaven 17 followed... The Underpants, Dick Velcro And The Space Kidettes, VDK And The Studs. Dead Daughters, The Hari Willey Krishna Band and Arthur Craven's Tent Band. All of these played at least once. Eventually, while Glenn was away seeking fame in London, Martyn and Ian - in a band called The Future - were joined by Philip Oakey and mutated into the Human League.
Two albums and a clutch of much-loved but commercially unsuccessful singles later, the cornucopia of conflicting ideas inevitably resulted in a parting of the ways. Enter BEF and Heaven 17, who took their name from one of those invented by the novelist Anthony Burgess for a Top 10 list in the record store of A Clockwork Orange. Johnny Zhivago, Cyclops and Goggly Goggs were other names on that list which were duly considered for the new trio. "Goggly Goggs was one of the names we had on the short list, funnily enough!" chuckles Martyn. "I think Heaven 17 was slightly better!"
But If their modus operandi and source of name were mildly controversial, they were nothing compared to the fuss stirred up by the first single, '(We Don't Need This) Fascist Groove Thang' in March 1981. A lighthearted take on a serious subject, and a telling contrast to the fashionable New Romantics, it was promptly banned by the BBC. Ian takes up the story:
"Radio One wouldn't play it because it expressed a political opinion, and the BBC are supposed to be neutral. We tried to get round it by changing the name to 'We Don't Need This Axis Groove Thang' but they didn't buy that one either. Also the Reagan assassination attempt happened at that time and his name was mentioned on the record, so they weren't going to touch it. So the next step we took was to try and at least get the thing heard by having little 15, 20, 30 second slots on commercial radio, like an advert for the single, but they refused to play it too."
The single - whose sizzling bass line (played by 17-year old Sheffield discovery John Wilson) recently reappeared on Mousse T's 'Horny' - stalled at No.45. Subsequent singles - 'I'm Your Money'. 'Play to Win', 'Penthouse And Pavement' and 'At The Height Of The Fighting (He La Hu)' - fared no better, despite being catchy and clever - possibly too clever for mass consumption. The parent first album, 'Penthouse And Pavement', won many friends, however - "rhythmic, urgent, spacious and concerned" - noted one critic. Despite the lack of a hit single, it made to No. 14 in the UK album charts and did well in Europe and the US too.
Contemporary interviews, meanwhile, offered in amusing insight into a clever, wit band who refused to take themselves too seriously. A new song would begin by Martyn "hammering away at not very complex chords on a Casio keyboard while Ian and Glenn play pool for three hours." Martyn's subsequent role would be to "sit at the helm while we're mixing and keep the other two under control, although Ian doesn't need it because he's asleep most of the time."
The quieter, mild-mannered Ian (once threatened with expulsion from school as a "subversive" and described by Martyn is "the random factor") offered "I suppose my forte is on the technical side. I end up reading the manuals and explaining them to the others, who don't like reading much." Glenn described himself as the jester, especially in prolonged recording sessions. "I take it upon myself to relieve any fraught situations. You know, cheap laughs like the waste-paper basket on the head trick, taking your trousers down and spilling a drink down your front. I tend not to take it as seriously as Martyn and Ian."
If 'Penthouse And Pavement' had promised more than it delivered, then album number two 'The Luxury Gap' delivered the big breakthrough in May 1983. After 'Let Me Go' had edged up to No.41, there followed a run of three Top 10 hits: 'Temptation' (featuring a memorable vocal contribution from Carol Kenyon), 'Come Live With Me' and 'Crushed By The Wheels Of Industry'. The album, meanwhile, was a dig at the gap between the real life experienced by the kids who were expected to buy records and the fantasy pop star life they were being sold. It made No.4 in Britain - not bad for a group that had still to make a record about love!
The follow-up, 'How Men Are' (September 1984) ushered in another way of working, Ian compared their roles to film directors where they didn't play any more, Apart from a couple of weeks of preparatory sampling at sounds which were then treated, they had moved away from their all-synthesizer roots and now organised session musicians. The singles were less successful ('Sunset Now' - No.24, 'This Is Mine' - No.23 and '...And That's No Lie" - No.52) though the album made a healthy UK No.12. The songs, Glenn noted, contained the usual political implications - "attacking things we hate"
Underneath the polish of their synth-funk, Heaven 17 were entirely serious about their politics. Martyn espoused the cause of Arthur Scargill and when offered the chance to make a radio programme with a hero, promptly chose Tony Benn. ("Tony Benn for prime minister, that's what I say - still!"). 'Fascist Groove Thang' bore the message "Better Luck Next Time, JH" in its vinyl run-out (Join Hinckley Jr was the man who tried to assassinate Ronald Reagan). But unlike some who lust postured, Heaven 17 backed up words with deeds. Royalties and tracks were donated to the likes of CND and Greenpeace.
But as befits a band with so much sharp wit, they never descended into sloganeering. One trademark of Heaven 17 is a well developed sense of humour which thrives on mischief. In Christmas 1983, they were invited to contribute to a Smash Hits Christmas Special to be given away in Woolworths. For this they chose to rewrite the Nativity Story by leaving gaps in the narrative, programming a bunch of words associated with a modern Christmas into their computer, then instructing it to fill in the blanks. Some of the results in this random process were complete gibberish but others were hilarious, including one memorable image of God going down the pub with Nik Kershaw. Not everybody was amused, however. The Bishop Of The Western Isles, no less, was among the zealots who pressured Woolworths into withdrawing the magazine (but not before almost all the copies had been snapped up, ho ho ho) on the grounds that it was blasphemous!
Meanwhile contemporary interviews promised that some of Martyn's photography would be included in band's upcoming "lieography" - "like a biography but full of lies" and revealed that the band's intellect had been given a thorough work-out with the creation of their own WestWay Vision Television. Among the WWVTV programmes described were 'Potted Jesus' ("the birth to death of Christ in 15 minutes"), Pro Celebrity Ryvita Eating (with ex-members of Altered Images attempting to eat 52 Ryvitas in five minutes), and Puppet Shows, with the group and their wives using fish, robots and voodoo dolls and rubber dogs heads as puppets.
But it all was well on the fun and games front, things were going less well elsewhere. The next two albums. 'Pleasure One' (November 1986) and 'Teddy Bear, Duke and Psycho' (nicknames awarded to the trio by Terence Trent D'Arby, whose album 'The Hardline According To...' Martyn had produced) (September 1988) managed one half-hit ('Trouble' - UK No-51) between them. and the latter didn't even make the album Tip 100. The axe was soon wielded by Virgin.
"We did do some demos for ZTT and EMI, but we were moving into a social protest phase at that point," Martyn chuckles, "which went completely over the heads of everybody we were talking to. I remember Glenn rang me up one day while I was producing John Lydon in Germany and he just said, 'Shall we pack it in?' This was his first words in the conversation! So I said, 'Yeah, all right then...' And that was it - be put the phone down!"
In the intervening time Martyn did lots of production - Erasure, Alison Moyet, Marc Almond and Paul Weller to name but four. Glenn was in a band called Ugly which bad a ill-fated flirtation with Rhythm King/EMI, and then went on to sing and write with others, principally Martin Fry and ABC. Ian released a single ('No John No' - about the assassination of President Kennedy) on his own Technocentric label ("It almost made me quite sympathetic to record companies, to see what does go on behind the scenes when you're doing absolutely every job"), helped with programming on other projects, but mainly "pottered about". Full details of Heaven 17's many and varied activities can be found on various fan sites on the Internet: Heaven 17 - The most complete archive is particularly thorough (http://come.to/Heaven17/).
But though Heaven 17 was disbanded, the band members remained dose. BEF's 'Music Of Quality And Distinction Volume 2' appeared in September 1991 after a year in the making. ('Volume 1', which had helped to kick-start Tina Turners career, had appeared in 1981, only a couple of months after 'Penthouse And Pavement'.) The following year a remix of 'Temptation' by Brothers In Rhythm shot back up the UK chart to No.4 and kept alive the idea that there was life in the project yet.
Although you could forgiven for thinking that the Heaven 17 reunion began with this album, in fact it's been in full swing for three years. In 1997 they recorded two singles - 'We Blame Love' and 'Designing Heaven' - and an album - 'Bigger Than America' - which barely escaped into the outside world. Martyn takes up the tale: "It was one of those classic hard luck music business stories. We signed to this label [Eye Of The Storm] and it was actually the Snap! producers [Anzilotti and Munzing], who managed to get a huge amount of money out of Warner Brothers to deliver maybe three acts and we were the first of those acts. Then the record company dissolved about three weeks after they released the album, and we ended up with Warners - basically we were with a record company who didn't care for it. It was a disaster.
"But we put a lot of effort into it - it was like a going back to our electronic roots record. We'd come so far down the live-in-the studio thing with session players that we'd kind of lost confidence in our own ability to do it ourselves. Now we're back to that point where we're doing everything ourselves.
"This live album is from a tour we did with Erasure. It was a 40-minute set, so it's basically a greatest hits package with a couple of new songs. Because of the nature of the way we are on stage, it has to be by necessity -and we want it to be - very electronic. Certain songs adapt to that, and songs from 'How Men Are' onwards don't adapt is well, because that was more real instruments. So that's why they're generally from the first two albums and more recent stuff.
But why 'Being Boiled'?
"It was the first thing that me and Ian even wrote, and also Glenn is a big fan of 'Being Boiled'. Glenn always thought he should have been the original singer in The Human League, which if he bad been in Sheffield, he probably would have been. But I can't claim authorship of the lyrics - they're too barking. Those were Phil's. He freely admits now that he'd got three or four major religions all mixed up in his head, and it was just a Glen Hoddle-esque mix. But it sounded good. And it adapts well to a contemporary treatment - it's not a million miles away from the Chemical Brothers or something of that genre, big-sounding electronic music.
"The amazing thing is we're still surviving. It's 22 years since we started. It's a long lime. But then we're not really old compared with the Rolling Stones, are we?".