HISTORY
TEMPTATION HEAVEN 17 LIVE IN CONCERT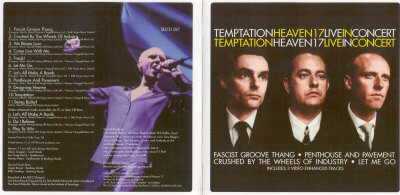 ---
Heaven 17. Heard the name before? It was borrowed from the controversial film A Clockwork Orange, primer for Bono, Steve Harley and who knows how many rock stars of recent times. Alternatively, it's the name of the highly successful band formed by Martyn Ware and Ian Craig Marsh when they split in 1980 from electro-pop supergroup the Human League. They found success second time around as Heaven 17, a band whose heyday all but spanned the 1980s. And though nothing would be heard between 1989 and 1995 as band members pursued individual projects, the fast-accelerating nostalgia bandwagon that had brought a Top 40 place for a Greatest Hits album finally enticed the band back to the studio to cut 1996's Bigger Than America for Warner Brothers.
Yet they had never played live, and the invitation to tour with friends persuaded them to lose their performing virginity at the University of East Anglia in early April 1997. Heaven 17 were to open for Erasure on selected dates of their Cowboy Concerts tour, but the reception the Singer Glenn Gregory would later admit, "was the cheers and applause of the audience as we walked on stage. I couldn't believe it, 1 kept thinking it was a set-up, but no - they seemed to enjoy it almost as much as I did."
That was certainly the case at Glasgow's SECC where this show was committed to tape on 15 April 1997 - exactly two decades after former computer operators Ware and Marsh had first teamed up as the Dead Daughters, self-confessed non-musicians making what they termed 'Experimental Music'. Next stage of the adventure was to link with hospital porter Phil Oakey, whose credentials for the post of vocalist were as much to do with his personality as any musical attributes. 'Visual director Adrian Wright, with his collection of 700 slides for back-projection purposes, completed an unlikely foursome.
The League gathered a cult following, graduating to Virgin Records from indie label Fast Product after a 1979 support tour to Siouxsie and the Banshees. The albums Reproduction and Travelogue were reasonably well received, but relationships within the band were stormy and insiders weren't surprised when, in October 1980, the Human League split into two.
Against the odds, the reconstituted League, Oakey now abetted by a pair of novice female vocalists, went on to top the album and singles charts with Dare and Don't You Want Me. You might have thought Marsh and Ware had got the thin end of the wedge, but they had cleverly negotiated a percentage of anything the 'parent group' earned and allegedly made a six-figure sum from the hit single alone.
The duo's first task was to recruit a new singer - and chose turner photographer and stagehand Glenn Gregory after meeting trim at a Sheffield drama project called Meatwhistle. For his part, Gregory would recall Marsh as "weird. with n very odd fringe that curled at the front and a synthesiser he built froth a kit', while Ware, then a trainee supermarket manager, was a gram fan who admits to wearing "five-inch heels and a diamante cat collar" With their new partner resplendent in 24-inch flares and gold baseball boots, it was clearly a marriage made in musical heaven - and fashion hell!
Though they now had a singer, tire pair's first release was totally instrumental. Issued by Virgin Records as a product of the BEF (British Electric Foundation), Music For Stowaways was one of the first ever ambient albums and was released solely as a cassette ; Stowaway was the original name what became the Walkman. Needless to say, the tape is now a collectors' item.
When interviewed for Smash Hits, Martyn Ware explained the nature of the duo's split musical personality: "Heaven 17 is a 100 per cent serious attempt to be incredibly popular, whereas BEF is no more serious but tends to be involved with more experimental projects." As for the fall-out with Oakey, "it was like the end of a love affair: The magic that brought us together just were off after a while. But there's room for all of us, we can all be successful".
The first Heaven 17 single and album appeared in March 1981 in the shape of (We Don't Need This) Fascist Groove Thing, a song that managed to mix politics and danceability even though it was denied airplay. The BOG were unhappy about the title and, as it namechecked president Ronnie Reagan who'd just been shot, its chart chances took a predictable nose-dive. Nevertheless, it remains a classic, and its classic bass line would be sampled by dance act Mousse T for the 1998 hit Horny.
I'm Your Money and Play To Win followed in May and August respectively, but not until the album Penthouse And Pavement nestled in the Top 20 after its late-'81 release did the name of Heaven 17 finally join the Human League in the charts.
After two more singles failed to find favour with the public, Heaven 17 went on hold once again as the BEF unveiled its next project. Music Of Quality And Distinction featured Sandie Shaw, Gary Glitter, Tina Turner and other great names from pop's past covering classic songs with a very contemporary instrumental backing. Glenn Gregory, incidentally, took on Glenn Campbell's country classic Wichita Lineman.
Having revived Tina Turner's career with a Number 6 cover of Al Green's Let's Stay Together in 1983, Marsh and Ware turned their attention back to Heaven 17-and were rewarded with Temptation the first and biggest (No.2) of a series of 10 Top 50 singles. Amusingly, given the Human League's female recruits, the standout vocal performance came not so much from Gregory but session singer Carol Kenyon. Her soulful declamations, far removed from Joanne or Suzanne's monotones, gave the record a hook of Mike Tyson-esque proportions.
It's in view of this that the Heaven 17 tour of '97 brought with it not one but two girl singers, Billie Godfrey and Angie Brown - who, a magnanimous Gregory admits, really contributed to the live sound - we were incredibly lucky to find two such brilliant singers." And it's a tribute to the pair that Temptation, the climax of the 40-minute Greatest Hits set here. is every inch a showstopper.
Let Me Go, Come Live With Me and Crushed By The Wheels Of Industry were also successful singles that lined up on the Number 2 album The Luxury Gap and earn their rightful place in the live set. Also featured here is Let's All Make A Bomb, a standout of Penthouse And Pavement. The material Heaven 17 chose to revisit live was mainly from the first two albums since, as Ware explains, "The nature of the way we are on stage (in 1997) is very electronic." Later albums used more 'real' instruments, and so more difficult to reproduce.' That said, new songs like Designing Heaven and We Blame Lave, their first two Warner Brothers singles released in 1996 and 1997, saw them returning to that self-same trademark sound.
Both these new tracks are performed here, which is no surprise. More of a shock, though, is the choice of the Human League's Being Bailed, which singer Glenn Gregory- never a member of that band, remember-claims "has always been one of my favourite songs, it was a real bonus for me that we did a version of it." Heaven 17 signed off with the albums Pleasure One (1986) and Teddy Bear, Duke And Psycho (1988), the individual members having already started diversifying. Martyn Ware oversaw Terence Trent D'Arby's platinum-selling debut Introducing The Hardline (1987), while Glenn Gregory would go on to work with fellow '80s popmeisters ABC. Marsh, meanwhile, donned the BEF mantle once more for a second volume of Music Of Quality And Distinction, released in 1991. Guests this time round included Scritti Politti's Green Gartside and soul legends Billy Preston, Mavis Staples and Chaka Khan.
Heaven 17's run of hit singles had ended in '87 but surprisingly re-started five years later when a Brothers In Rhythm remix of Temptation reached No. 4 and headed a series of three records to re-chart. Meanwhile Ware produced Erasure and subsequently recorded with that group's Vince Clarke. Gregory had been seen performing the old hits with backing tapes and not inconsiderable bravado.
The full group reunion was greeted with enthusiasm by fans and band alike, Glenn Gregory insisting "I wish we hadn't waited so long, because I absolutely love it." The year following the Erasure tour saw the trio return to live action in July to promote a new album of remixes, Retox/Detox, while a March 1999 performance at London's exclusive Sound Republic club yielded the final three enhanced tracks on our disc. Even though their first album contained a track titled We're Going To Live ForA Very Long Time, it's doubtful the. three members of Heaven 17 would have predicted being in demand as the millennium turned - let alone playing their music live. Their longevity is down to the fact that they were well ahead of their time; as Martyn Ware observes, the version of Being Boiled they perform here "is not a million miles away from the Chemical Brothers or. something of that genre - big-. sounding electronic music."
This, then, is your stairway to electro-pop heaven. Enjoy the climb!
Michael Heatley, 2001