HISTORY
from : HEAVEN 17 : TEMPTATION / Prism Leisure PLATCD717 released 2002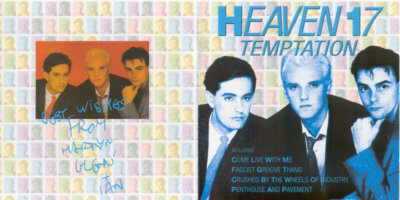 ---
Although Heaven 17 was formed in the early Eighties, its story began a decade before that, in 1972 when Ian Craig Marsh first met Glenn Gregory at a small drama group in Sheffield. A year later they were joined by Martyn Ware who shared their love of not only American Funk bands Parliament and Funkadelic, but also (and more importantly) the German pioneers of electronic music like Kraftwerk and Tangerine Dream. As a computer operator Ian had enough technical knowledge to build a synthesizer of his own at home, but it was not, to put it politely, exactly state of the art. There was only one thing for it and that was to scrape together enough money to buy professional machines. While it was a struggle, the excitement they felt when the Roland and Korg synthesizers were finally delivered was enormous. The next stage was to experiment with the newly-acquired keyboards using some rudimentary recording equipment they had put together. They then developed and played in a number of unsuccessful bands including an early take on the Punk movement which they called 'Musical Vomit'. Remember this was back in 1972.
Late on in 1977 a former school friend of Martyn's came on the scene. His name was Phil Oakey, he was a vocalist of some talent and proved to be the catalyst which, together with the recruitment of Adrian Wright, inspired the formation of The Human League. The new band's first single 'Being Boiled' was released on the Edinburgh-based independent label 'Fast Product' in 1978. It attracted sufficient attention for Human League to be signed by Virgin Records. After two albums, 'Reproduction' and 'Travelogue', the group was on the verge of making a significant impact. It was just at this point that relations between Martyn Ware and Phil Oakey deteriorated to such an extent that, in October 1980, the band split into two. Wright and Oakey retained the name, leaving Ware and Marsh to form the British Electric Foundation (BEF). Initially conceived as a production company which would produce other artists, it soon spawned its own band.
Deriving its name from a fictitious record featured in the film of the Anthony Burgess novel'A Clockwork Orange', Heaven 17 came into being when Martyn Ware invited Glenn Gregory, then working in London, to join him and Marsh as lead vocalist. Using their relationship with Virgin Records to gain a contract with the company, Heaven 17 soon released its first single, the controversial '(We Don't Need This) Fascist Groove Thang'. Promptly banned by the BBC for its supposed insults towards President Regan, it, nevertheless, made the lower reaches of the Top Fifty. Follow-up singles fared little better, but the album 'Penthouse And Pavement' sold well enough to reach the number fourteen spot. The BEF project 'Music Of Quality and Distinction' matched well-known singers such as Sandie Shaw, Gary Glitter and Tina Turner with older material and helped to re-start Tina's career.
Heaven 17's next alburn 'The Luxury Gap' marked the band's big breakthrough. It made number four in the album charts as well as producing the hit singles 'Let Me Go', 'Temptation', 'Come Live With Me' and 'Crushed By The Wheels Of Industry'. All four are included on this live collection. The singles from the follow-up 'How Men Are' we less successful although the album still made the Top Twenty. As with much of the band's work, many of the songs were political in nature reflecting its member's deeply-held left-wing beliefs. The next two releases 'Pleasure One' and 'Teddy Bear, Duke And Psycho' did not sell well and the group were dropped by Virgin.
Meanwhile the musicians involved in Heaven 17 were working increasingly on their own. Glenn Gregory played with various bands, while Martyn Ware became a highly-respected producer who worked with Terence Trent D'Arby, Alison Moyet, Erasure and Paul Weller among others. The group officially disbanded, but continued to work together on specific projects including 'Music Of Quality And Distinction Vol. 2 and a hit remix of 'Temptation'.
A more permanent Heaven 17 reunion in the late Nineties saw the album 'Bigger Than America' released on a small label which went into liquidation three weeks after the record came out. However a tour supporting Erasure went so well that the boys arranged their own tour a few months later. Every date was a sellout, new recordings followed and the band's renaissance was complete.
Packed with many of the band's biggest hits, as well as some fine newer material, this superb live album was recorded during Heaven 17's comeback tour with Erasure. It shows that the band has much to say more than twenty years after it was formed. The British electronic pioneers are still going strong.
@ 2001 TonyWatts, London
Licensed courtesy of First Celtic Corporation Ltd.
PLATCD 717