HISTORY
from : HEAVEN 17 : LETS ALL MAKE A BOMB/ SNAP153CD released 2003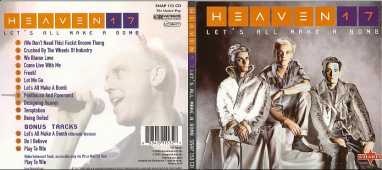 ---
Let's All Make A Bomb is that rare thing - a live recording by Heaven 17.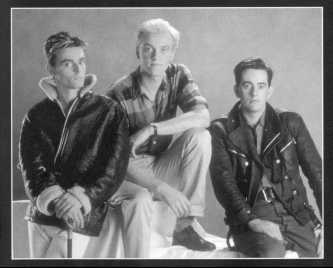 As one of contemporary music's premier pop/dance groups the trio were noted not just for the excellence of their studio recordings, but for their intransigent reluctance to take to the stage.
Then, in the late 90s, several years after re-forming following a period when each member pursued individual projects, Heaven 17 took the momentous step of touring the UK.
Any initial nerves and uncertainty were immediately swept aside as the band received standing ovations both before and after each show. The enormous fan base the group had built up in Britain and abroad came out in force to hear their favourites perform live the classic hits that had established their reputation and popularity over nearly two decades.
So, Let's All Make A Bomb is a CD packed with what amounts to Heaven 17's greatest hits. But with a twist.
Prior to undertaking the tour Martyn Ware, Ian Craig-Marsh and Glenn Gregory had spent considerable time and effort honing their set by rethinking the songs for the stage setting. Since the dynamics of live performance would differ radically from the controlled environment of the recording studio, Martin, Ian and Glenn injected the material with an edge that would be needed to fill concert halls.
Even a cursory listen to these re-interpretations of iconic songs such as Temptation, Fascist Groove Thang, Penthouse And Pavement and Come Live With Me reveals a power and majesty that marks them out as extraordinary achievements.
Heaven 17's disinclination to put themselves about as a live act went further back that their formation.
As founding members of Human League, Ware and Craig-Marsh were never enamoured of the live circuit and hassles of the motorway slog that accompanied. Their departure during 1980 and the recruitment of Glenn Gregory as vocalist (Glenn's voice and delivery bearing some resemblance to Human League's Phil Oakey) allowed them to establish a set of principles that would govern their music careers from then on.
They formed B.E.F (British Electric Foundation) as an umbrella production company from which all sorts of offshoots could be launched. Simultaneously, they created Heaven 17, the first project to emerge from that production centre. The trio were all admirers of film director Stanley Kubrick and assumed the name Heaven 17 from his controversial cinema epic A Clockwork Orange itself adapted from Anthony Burgess' eponymous novel.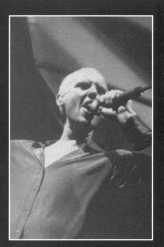 In March 1981 both B.E.F and Heaven 17 launched their debuts. Heaven 17's first single, (We Don't Need This) Fascist Groove Thang, made it to No. 45 in the singles chart, while B.E.F's cassette-only album release, Music for Stowaways, with its Uptown and Downtown sides, didn't chart but established Ware and Craig-Marsh's writing credentials as masterful craftsmen of the dance groove.
In September 1981 Heaven 17 issued their debut CD, Penthouse And Pavement, which in addition to the eponymous title track also contained Fascist Groove Thang and Let's All Make A Bomb. It climbed into the UK Top 20 (and even dented the Billboard Top 100 in the US) and went a good way towards establishing the trio as an outfit with enormous potential.
The parallel B.E.F. project released an astonishingly varied box set of 5 singles in November 1981 that made the UK Top 30. Music Of Quality And Distinction set a precedent for a measure of the work to come from both B.E.F. and Heaven 17. Ware and Craig-Marsh collected together a disparate band of vocalists to deal with the eclectic material. Sandie Shaw tackled the Dionne Warwick classic, Anyone Who Had A Heart, Tina Turner revamped that psychedelic soul monster by The Temptations, Ball Of Confusion, and Billy McKenzie (of Scottish renegades The Associates) contributed his typical emotional vocal gymnastics to its Over. The loose cannon track featured Paula Yates on These Boots Are Made For Walking, the song previously made famous by Nancy Sinatra.
The release of the single, Temptation, in early 1983 echoed the use of guest vocalists by B.E.F. Noted session singer Carol Kenyon joined Glenn Gregory for a blistering interpretation of the song that has become Heaven 17's signature tune. It soared to the No. 2 slot in the UK and subsequent re-issues over the years have meant this track in its various remixed guises has sold in excess of a million copies.
Hot on the heels of Temptation's success came the launch of the CD album, The Luxury Gap, featuring killer tracks like Crushed By The Wheels Of Industry and Come Live With Me. Its No. 4 UK chart position ensured that within two years Heaven 17 had reached a position of ascendancy in the pop/dance field
After a series of successful singles - Come Live With Me, Crushed By The Wheels Of Industry and Sunset Now - the band issued another seminal CD album, How Men Are, in September 1984. Its No. 12 position and continued strong sales elevated it to similar status as The Luxury Gap.
There was, however, from this time on until the 1991 release of Music Of Quality And Distinction Volume 2, no new material from B.E.F. The beginnings of Ware, Craig-Marsh and Gregory involving themselves in a diversity of projects outside both Heaven 17 and B.E.F. had begun.
Not that there was any cessation is Heaven 17's output. A series of singles - This Is Mine, ...(And That's No Lie), The Foolish Thing To Do and Contenders - preceded the arrival of a new CD album, Pleasure One, in November 1986. But the lack of high chart positions for any of those singles or the Pleasure One release indicated that perhaps the public were a little out of touch with Heaven 17's take on pop/dance. Certainly, the single, The Foolish Thing To Do, featuring soul legend Jimmy Ruffin on vocals alongside Glenn was critically lauded, but a little of the gloss in sales terms was missing.
By the time the trio issued the CD album, Teddy Bear, Duke And Psycho, in September 1988, it had become obvious that the band members were going to concentrate on their outside projects to an increasing degree.
Glenn Gregory declared: "We never really split up. After the release of our last album (the aforementioned Teddy Bear, Duke And Psycho), we just decided not to do any recording for a bit ... and the bit lasted eight years. We all thought that we'd have different conditions for starting again, but it turned out that everyone thought the same. We all wanted to get back to where it started, which was electronic."
Before that getting back together, however, Martyn Ware built on his burgeoning reputation as a producer following the sensational success of Let's Stay Together for Tina Turner in November 1983, the No. 6 chart hit that relaunched her career and set her on the path to becoming one of the biggest-selling pop acts of the 80s and 90s.
Ware's super-charged production touch directed Terence Trent D'Arby's Introducing The Hardline According To Terence Trent D'Arby album debut to the No. 1 UK slot in July 1987. There was also album success for Erasure under Ware's production with I Say, I Say, I Say in 1993. Other work with top-notch acts like Marc Almond, Shabba Ranks, Lena Fiagbe and the brilliant Alison Moyet have only underlined his status.
By 1996 that moment of what Gregory referred to as wanting to "get back to where it started" occurred, and Heaven 17 as an electronic trio set out on the path to reviving the glories of their best years.
Although the contemporary music scene had changed and continues to change on a constant basis the combined talents of Ware, Craig-Marsh and Gregory have again found their place.
The decision to tour - which Ware has admitted was not taken lightly, his own doubts looming large before they took the great leap into the unknown - has given the group renewed strength and allowed that enormous and faithful fan base the opportunity to appreciate the band from a different perspective.
Let's All Make A Bomb is a typically bold statement from Heaven 17. The trio's patent enjoyment at presenting their music in a live context shines through on every track and gives the set a positive and uplifting tone.
With three bonus tracks adding to the luxurious quality of the music, it's a package that's not just wrapped beautifully - the contents live up to the presentation.
Bill McAllister