ARTICLES AND REVIEWS
The story of a band called the HUMAN LEAGUE
by Alaska Ross, Photos by Jill Furmanovsky
Hold up your hand, spread your fingers in front of your face and count them.
Assuming you can beat a potato hollow when it comes to arithmetic and as long as you've not been playing chopsticks with the business edge of a sharp knife, you'll have five whole digits - one for each year of the recording life of The Human League so far.
It's taken five years for the League to finally emerge from the 'cult' grave that well-meaning music papers buried them in. It's taken five years for the nation's public to catch a glimpse of the platinum-tinged light in the League's eyes. Five years to get to the stage where League lunacy is about to consume the Euro-pean and world markets.
Hardly an overnight suc-cess of the instant flash fire-work kind, more the long slow fuse to the keg barrel of dynamite, the League have not had it all their own way from the start. After all, a country knocked senseless by an onslaught of Pistol-whipping and punk outrages was hardly the most productive environment for the first electro-pop disco unit to flourish in.
Yet punk also had its positive legacies; 1977 was the age of do-it-yourself and saw an initially anarchic decentralisation from the all-consuming magnet of the London metropolis. Non-musicians everywhere picked up whatever was closest to hand and started to plonk away, making music for themselves. In Sheffield Ian Craig Marsh was one such amateur. He had been attracted by an advert in his school library's copy of Practical Elec-tronics which sold a d-i-y synthesiser with 'these easy to put together modules'. He bought it, constructed it, failed to make it work and stuck it back in his cupboard until ...
'I was in contact with Mr Martyn Ware, and it was a friend's birthday party, a 21st, and we said "Let's get a band together for the night" ... So we did, we played under the name of The Dead Daughters or something. Very strange, there was a guitar, a drummer, my synthesizer and loads of tape loops, all being put through various effect units. We did things like the Dr Who theme tune and Louie Louie.'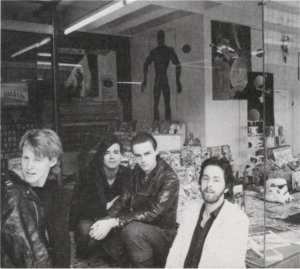 they all thought we were total crap
Sufficiently impressed with one another's perform-ance, these two computer tape operators from North Yorkshire decided to carry on, supplementing their number with one Addy Newton and changing the gothic horror fantasy of the name for something a little more breezy - The Future.
They set about sending demos to record companies in London whose collected A and R force remained somewhat unmoved when faced with the battery of instrumentals (amongst which was 'Dancevision' the track that surfaced on Holiday '80). 'They all thought we were total crap,' recalls Marsh. 'All they said was "Keep in touch boys". But then we got rid of Addy and, for reasons best known to ourselves, we got Philip in.' With Addy departed to the arms of Sheffield's Clock DVA, Philip takes up the story.
'I was at school with Martyn and I'd been watching with increased admiration as all these things happened to The Future with them trotting off to London to see record com-panies which seemed a fairly insane thing to do. Everybody used to laugh at them except me.'
'We wondered what role he was going to have be-cause he hadn't got any money to buy a synthesiser or anything. He had a saxo-phone which he couldn't play,' says Ian, even though Philip protests that it cost him £165. 'Being Boiled was the first thing we did together. We'd got the instrumental part and he came along with these lyrics and just started singing along. So we had vocals then. I thought the lyrics were just completely crazy.'
wheeling bodies around
Thus, through a strong sense of pragmatism, the lungs for the League were first exercised. Those full, high ringing tones had pre-viously only been bounced off the hospital walls where Philip was employed as a plastic surgery theatre porter. He readily admits now that 'if it wasn't for Ian and Martyn I'd still be wheeling bodies around a hospital ward'. He had had trouble finding a comfort-able niche for himself. Before the hospital he had spent time working in a bookshop, a job which gave him ample opportunity for indulging in his favourite pastime of reading anything he could get his hands on.
'I was completely without ambition, I was baffled,' Phil wryly remembers. 'I always wanted to be a bit creative - my dad wanted me to be a novelist but I've tried so many times to write one, I could never finish it off !'
The son of a post office official and youngest of four brothers, Philip spent the earliest years of his life travelling around the country, setting up home in different cities and never really having the time to put down any lasting roots. Naturally, this had an effect on his school career, which Philip recalls he passed in a somewhat rebellious frame of mind.
'I made a very bad decision at one stage, I decided to take easy, fun 'A'-levels rather than useful ones. I was always good at sciences, maths and things like that -but I went and did French, English and Art. After about two terms, I decided I was completely wasting my time so I left and went to work in a book-shop.'
It was during his school-days in Birmingham that Philip contracted his fever for extravagant hairstyles, an obsession that has never left him.
'I was famous in school for having the longest hair of anyone - it was way down my back, this was before it became acceptable. Then, just before the skinhead thing, I got mine all cut off-I'd got very fond of Lou Reed so I got my head shorn very short and the headmaster rang up my dad and said "I've heard Philip's had his hair all cut and he daren't come back to school" which was rubbish.'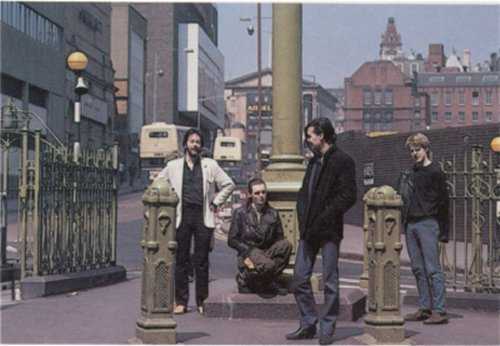 i always wanted to look a bit different
It was a fetish that stemmed from to his desire to stand out from the crowd. As Philip acknowledges: 'I always wanted to look a bit different from everyone else, I'm not sure why. I had very long hair as soon as it was permissible and then as soon as everyone else started to grow theirs, I got it all cut off very quickly. I'm a trouble-maker, I suppose.'
Philip's equally candid about the origins of that asymmetrical curtain of hair - the haircut that made it look like the barber had been Sweeney Todd-ed in the middle of his work!
'It did me a lot of good for a while. When we started in this pop group business (which was something I'd never intended to do, I just happened to be friends with Martyn and Ian) I thought "What have all big pop stars got that sets them apart?" And the only thing that I could think of that made them all different was a hairstyle. David Bowie, Rod Stewart, Marc Bolan, The Beatles - they all had odd hairstyles, so I thought that I had better find one. Then, one day, I saw a hair model on a bus, a girl called Penny, and I went over and said "Where did you get your haircut, I want one of those." It was a simple as that.'
Perhaps not that straight-forward. After all, Philip's innate sense of style and grasp on what gets you noticed is married to an acute understanding of the way that the pop business works. It was a masterstroke.
'I hated it really, he admits, `It didn't do anything for me but it made people go into record shops and remember what I look like, I suppose.'
In order to mark the change that Philip's vocals had brought to the band, the trio changed their name in October '77. Martyn takes up the narrative.
`We got it from this science-fiction game called Star Force. There were all these scenarios in the back for various wars in the future, and one of these, for a stage round about 2180, where there were two main empires - "The Pansantient Hegemony" and "'Lie Human League". The Human League vv ore centred around Earth and the scenario was called "The Rise of The Human League". So we stole it.'
With the instrumental components assembled, and with a new name, the group set about forming themselves a policy platform from which to operate. The fact that none of the three had any formal musical training meant that they were determinedly and proudly amateurish in their approach. This didn't stop them embracing the strong principle of melody and tune wholeheartedly, placing the emphasis on a standard rock/pop chassis and building around that framework the textures and complexities of the synthesiser sound. Thus they killed two birds with one brilliantly-aimed stone by bonding the traditions of a rock and roll past and the science-fiction possibilities of the future with the simple tactic of opting solely for easy-to-master electronic instruments.
The synthesiser was easy to play and cheap, whereas the guitar `required you to soak your fingers in alcohol to stop them bleeding. We're not into things like that' mutters Martyn, dead-pan fashion.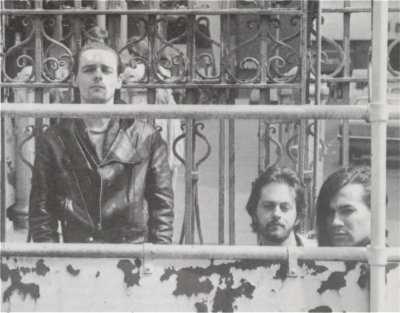 electronically yours
The new band soon put theory into practice and got together a demo tape, having rehearsed them-selves into shape in their Devonshire Lane hole-up, a large room in disused factory premises in thq' centre of Sheffield. Intro duced to Edinburgh's Fast Product independent label by fellow Sheffieldian and member of 2.3 Paul Bower, the band's tape so impress-ed Fast's manager Bob Last that he signed them and agreed to release a single. The fact that the whole transaction was completed via the phone is in total keeping with a band who owe their very existence to electronic software. Indeed, the group only met Last some five months after the single had been released - at their first London gig.
Electronically Yours, as the single was sub-titled, featured the Being Boiled A-side for which Oakey had dreamed up those astonishing lyrics - `Listen to the voice of Buddha/Saying stop your sericulture/Little people like your offspring/ Boiled alive for some god's stocking/Buddha's watching Buddha's waiting'.
It was recorded in mono on a domestic two-track and sold some 17,000 copies before it was deleted. It's come lull circle since EMI re-released it in early '82 and it climbed the charts, despite the fact that a re-recorded version of it had appeared on Travelogue, and its B-side, Circus of Death, was included on the first LP Reproduction.
a clumsy giraffe
The gap between recording the single and seeing it released left the League with time on their hands. They began to question their original intention of shunning live performances - an evil they had decided to do without because of their unease with stage work. Apart from an awkwardness in the terpsichorean stakes that Philip admits to even now - 'I'm just too embarrassed about dancing. The others describe me looking I ike a clumsy giraffe if I even make the slightest attempt. I'm strangely rhythmic-m.' top half's very rhythmic, n it bottom half's very rhyth-mic, but I can't seem to match them up' - the very notion of performing was secondary to them. Philip elucidates 'Other groups get together with two guitars and a drummer and a singer and they'll thrash out a song and learn to play it and then they'll go out and play it live, and then maybe get to make a record of it. The first thing we do when we got anything we like is put it down on a tape and then see about adding to it, which is a very different set up.'
Their distaste for the live show was gradually eroded by a combination of frustration at indolence and the bullying tactics of a few friends.
The menu for the Human League's first live appearance, at a Sheffield art college, was a mixture of gems both remembered and lost - things that eventually found their way on to vinyl, such as The Path Of Least Resistance and You've Lost That Loving Feeling rubbed shoulders with numbers such as the lost and apparently classic Dance Like A Star. The whole evening's musical content depended largely on the first set of demos sent out to prospective record companies.

that floss-haired git
The other important event of the evening was the presence in the audience of one Adrian Wright, a former icecream salesman turned art student whose big musical passion was The Ramones.
`We accidentally picked up Adrian after about the third show 'cos we were totally boring onstage. We didn't do anything,' Phil later confessed.
'That floss-haired git', as Philip tenderly refers to Adrian, just happened to be living in the same building the group used to practise in. His close proximity, his love of all things trash and, above all, his driving licence, convinced the others he would be an asset to the band. Appointed Director Of Visuals, he brought with him a collec-tion of some one hundred 'Star Trek' slides he'd snapped off his dad's TV - the nucleus of a collection which has since multiplied to some fifteen hundred and shows no signs of slowing down.
Adrian's arrival set the seal on the original Human League. Spread over four screens, Adrian's visual extravaganzas would pair Bat-man and Robin with The Avengers, have them fending off some Fifties' sf monster as the S.S. 'Enterprise' zoomed by unawares, all the while on a direct collision course with Gary Glitter's navel.
An inveterate collector and hoarder, Wright boasts a bubblegum card collection of over 3,500; a set of Dalek toys and 'Man From Uncle' bric-a-brac to make the average 12-year-old weep with jealousy and a keen interest in old 60's magazines.
Through his obsession with the camera as a reflec-tor of current culture, Adrian was able to supply the visual cohesion the other stationary and stilted three lacked. His images form either random comple-ments to the songs or else highlight and pick out salient factors with more than an acute sense of humour, something that, considering his position as butt for the other's non-stop jokes, must come in ex-tremely handy.
Adrian's arrival in the earlier part of '78 was followed in June by the release of Being Boiled to a lot of affirmative rumblings in the press but no actual results in the charts. In fact, it belly-flopped. But they had, by this time honed their stage show into good enough shape to embark on their first London exposure - a gig supporting the Rezillos at the Music Machine in August '78. Nothing could have been more coincidental or prophetic, since the Rezillos had as their guitarist one Jo Callis who was to join the League some three years later!
riot shields
Shortly after that, at the request of the band them-selves, the League went on tour with Siouxsie and the Banshees who were, at that stage, at the peak of their punk popularity. There were some fears as to how the audience that the Banshees attracted would react to a band whose stated intentions were to 'positively affect the future by close attention to the present, allying technology with humanity and humour'. With visions of getting bottled off or being forced to take a shower in a hail of spit the band took along specially constructed riot shields to protect themselves. They also, after the first few dates, changed the character of the set, eliminating the more controversial instrumental numbers in favour of more popular ones like the Gary Glitter cover Rock and Roll Parts 1 and 2. The shields, it turned out, were an unnecessary piece of pessimism. Contrary to what the public had been led to expect from Britain's first audio-visual combo, the emphasis was not on the doodlings of European bands like Tangerine Dream but on classic pop that took in anything from T. Rex and Phil Spector to the theme tune from the 'Gordon's Gin' advert. The tour was a success in that it opened up for the League an audience previously prejudiced against them.
Unfortunately, their next step did nothing to capital-ise upon this new-found in-terest. Still with Fast Product, they released a 12 inch EP called The Dignity of Labour Parts 1-4 in April of '79. The cumbersome, if tongue-in-cheek title re-flected the equally cumber-some, if tongue-in-cheek music. The four tracks were all instrumentals and proved to be something of a disappointment to those who had expected the League to present their more poppy side for public display. As Phil admitted later on `it was a bad mistake doing it at that time, because everyone had decided we were a pop band, and we put that out and it sounded like Amon Duul or something'.
hi ! i'm jason taverner
Around this time, they had realised that they needed the facilities offered by a major label, and so, still keeping Bob Last as their manager and mentor, they set about courting the music business moguls. The demo tape which they sent out was a masterpiece of League
logic. Sliced together with the electronic jingle Interface, it featured Phil Oakey as one `Jason Taverner' whose task it was to explain and interpret the Human League's music for a bunch of no doubt cynical A and R chappies. It's hilarious. Just listen:
'Hi! I'm Jason Taverner and I've been asked here to introduce the first demon-stration tape by a great group of guys called The Human League. I first met The Human League when they appeared on my network tv show last year. And then, and a couple of times since that that they played a song for us, I was impressed that here was a bunch of boys who were trying to do something new in music when the majority of bands were just interested in shocking people. This attitude is exemplified on their first song - an optimistic modern anthem called Blind Youth....'
It's an astonishingly simple piece of planning - how to make jaded ears sit up and listen by using a combination of humour and truth, a strategy that the League have honed down to a fine art. The tape featured material that eventually found its way on to their first album for Virgin, the record company that gave the League 'the right control' rather than a ticket to the Cadillac stakes via a huge advance - a mistake that a lot of bands have lived to regret. Straight after the signing, the band were packed off to Europe to tour with Iggy Pop, an all-time hero of the Leaguers, and then it was back to Sheffield to embark on the album.
However, they had to get something else out of their systems. Their determined-ly synthesiser-only stance was under some pressure from the Virgin bigwigs who were worried that their unfamiliar textures might have trouble in reaching a wider audience. Martyn Ware had said that they might well consider working with orthodox rock instruments but `not under the name Human League' so they issued a single for Virgin called I Don't Depend On You under the name The Men featuring session musicians on drums, bass and backing vocals. It had a disco beat and a raw rhythmic power that had eluded their recorded efforts so far, but as they were concentrating on the backing tracks on the new album, it was never promoted very aggressively.
reproduction
Reproduction was recorded at The Workshop and was mixed and overdubbed by producer Colin Thurston at his Red Bus Studio in London. Ian Marsh remem-bers the mixed feelings the band had to the finished product 'Doing it was great, we thought, "Wow, this sounds fantastic, great". But it was only a few months later when we listened to it on our normal systems that we decided it was lacking in quite a major way in several areas.' The `modus operandi' employed had been to get the beat down first and then wind the melody line around it. The result was one of clipped, crackerjack pulses which overawed the weaker tunes and punctured the stronger ones. However, although the production is a little flat in places, the album deserv-ed to sell better than it did. When the combined might of the synthesiser enhanced and escalated the sincere and rounded harmonics of Oakey's voice-as in You've Lost That Loving Feeling or The Path of Least Resistance - the effect is breathtaking.
With Reproduction re-leased in October '79 followed closely by the single cut Empire State Human, the band's run of bad luck really got going. Unenthusiastic reviews, the lack of any obvious tunes for air-play and the public's distaste for its cover (new born babies being trampled underfoot by a bunch of stiletto-heeled adults) meant that they sold much worse than expected, and the proposed headlining UK tour, set to promote the records, was summarily junked by Virgin's executives.
Instead they substituted their own headline jaunt with plans to support Talking Heads in November. But, in true Human League fashion, it wouldn't be as straightforward as that. In the words of Bob Last's press release ...
`The Human League, intrigued to experience their own performance themselves, have designed a remotely controlled touring entertainment. Therefore 30 Human League minutes will be available on the upcoming Talking Heads tour. The League themselves may well join the audience on some evenings to savour the occasion. The arrangement will allow them on other evenings to continue working on their second album in their Sheffield workshop'. Which would mean that they had sharpened the control of modern technology to the point where they didn't actually need to appear on stage at all! This new concept in `live' shows was obviously not to the taste of the Heads because hours before the tour was about to start the League were given their marching orders. Although a great deal of expense of time and money, had gone into the scheme, the band refused to be thrown by the incident. As Adrian proffers `spirits were quite high because everybody was against us and we were all really tough about it.'
cat hairs and hamster droppings
Determined that the mistakes they had made with the first album should not be repeated, the band spent the next months convincing Virgin to put up the money to finance their own personal studio. It made commercial sense because the band would probably spend less money fitting up their own place than they would if they recorded elsewhere. They eventually set up shop in a disused veterinary sur-gery in Devonshire Lane. Having cleaned out the cat hairs and hamster droppings, they christened their new home in characteristic tongue-in-cheek fashion `Monumental Pictures'.
In April '80, they released Holiday '80 as a double single pack which, for the first 10,000, included Rock and Roll Parts 1 and 2/ Nightclubbing (a cover of the Iggy Pop/Bowie mood march), Doncevision, Mari-anne and Being Boiled (the newly recorded version). It entered the charts at number 80 with all the impact of a falling souffle and Virgin took the recuperative step of deleting the original double pack and quickly issuing an ordinary 7 inch version. The new single now comprised Rock and Roll without the Nightclubbing sequence, Being Boiled and Dance-vision-Marianne being lost to those unlucky enough not to have gotten the original. It reached No 56 in the charts, an achievement that was magnificently surpas-sed by the second album Travelogue which peaked at No 16 in the album slot. Re-leased in May '80, Travelogue fulfills the League's stated intention of providing dance music for the '80s, without talk of digital delay components and modulating sequencers, far better than Reproduction. It still bore the odd trace of pedantic and ponderous mood-shifting, but overall the atmosphere was brighter, lighter and longer burning than they had ever achieved before.
At that time, the Blitz scene, or the New Romantics or the Rebels without a Thing To Wear began to dominate the headlines. Their passion for the dancefloor and the electro-austerity of Numan cybernauts provided the League with the ready-made audience they had previously lacked. Martyn however, gave short shrift to the so-called Futurists: `It's a very old fashioned view of futurism, which is like people walking about like Michael Rennie out of `The Day The Earth Stood Still' or something. That's not futurism, that's more nostalgia than anything else.'
Travelogue's success was but a brief gap in the group's run of hard times. In what seemed a concerted effort to flood the vinyl market with Human League product, Virgin tried to capitalise on the modest successes of the Rock and Roll single and the second album by releasing yet another single. In June '80 they repackaged Empire State Human, which, in the words of the Virgin press release, had made 'bugger-all impact' at the time of their first attempt with it the previous October. The first 15,000 were sold as a double pack with ESH - backed by Introducing - shrinkwrapped alongside Travelogue tracks Only After Dark (the Mick Ronson cover) and the instrumental Toyota City. It still didn't sell.
throwing milk at martyn ware
By now, on the verge of a make or break year, the strains on the band were be-ginning to tell. Never the most complementary of characters, the in-fighting on everything from group policy to the kind of animal skin jacket Bryan Ferry wore on Roxy Music's first `Old Grey Whistle Test' appearance had become unbearable. But it was something that had gone on right from the start. Philip explains: `The impression is that there was a big bust up be-tween me and Martyn. There was always a big bust up between me and Martyn. I've known him seven years, and as long as I can re-member I've been arguing like the clappers with him. I didn't talk to him for a year once. I remember chasing him down the road throw-ing milk at him.'
In November '80, The Human League announced that they had gone forth and multiplied. Martyn Ware and Ian Marsh had split off to form themselves into a 'production company' under the name of The British Electric Foundation. This would function as `a cross between what PiL should have been before they became just another group, and the business suss of Chic' in the words of Martyn Ware. The break came when preliminary groundwork for the third album got snagged up be-cause no one could agree on just about anything. It seems that the major disagreement was over how the group's aim to make enormously successful pop records only using synthesisers and vocals should be achieved.
Bob Last, who continued to manage the League while maintaining a partnership interest in the Foundation clarified the situation: 'The League didn't split up for the usual corny musical-and-personal differences reasons: they simply no longer had an adequate working relationship. Neither party was happy and no one fulfilled, but this way both sides will produce far more satisfactory and commercial work'.
Ware and Marsh, under the name Heaven 17 (one they nicked from Stanley Kubrick's film `Clockwork Orange') released (We Don't Need This) Fascist Groove Thong to be followed by the Penthouse and Pavement LP - which went silver earlier on this year and is still bobbing around the album charts. After produc-ing a Hot Gossip album which they took over from Spandau producer and Landscape member Richard Burgess, they have released an album of cover versions entitled Music of Quality and Distinction. Basically a collection of BEF's favourite tracks, the hookline came in the inspired use of several guest singers. Whilst Glenn Gregory (the vocalist con-tracted to fill Phil's place) handled Lou Reed's Perfect Day and Glen Campbell's Wichita Lineman, there were party pieces from Billy MacKenzie of The Associ-ates for Bowie's Secret Life of Arabia and Roy Orbison's It's Over; Sandie Shaw, the 60's barefoot chanteuse and the League's old hero Gary Glitter also appeared.
slides home movies and a lop-sided haircut
But what of Philip and Adrian? Loft with the hand's name, Adrian's collection of slides and home movies, and a lop-sided haircut, the two were faced with the ter-rifying prospect of having to honour a couple of British dates in the next week or so.
Determined not to go under, Adrian started to learn the synthesiser whilst Oakey put into practice his long cherished hope of be-coming the British Abba. Always acutely image-conscious, Phil realised that what the group needed apart from those elusive commercial singles, was a healthy dollop of glamour. He himself had provided the original ingredient - that slightly ambiguous sexual-ity enshrined in his liberal use of black Kohl eye-liner, girls' blouses and pierced nipples - but now he wanted to balance that out. He found what he was look-ing for in the Crazy Daisy disco in Sheffield.
'I went in looking for someone to join the group. We had an idea that we'd prefer someone of a less similar gender to our own ... also Martyn's got a rather nice high pitched voice when he wants to, and we needed a high voice just to cut through and add things on record or sing leads occasionally.
`My girlfriend said, "Look at those two, they're great". They weren't at all, but we licked 'em into shape. And in four days they were singing better than me,' said Phil after the girls' second appearance on stage.
At the tender ages of 18 and 17 respectively, Joanne Catherall and Susanne Sulley had made the rather spectacular move from studying A-levels to twist-ing the night away on stage with a pop group. The Things That Dreams Are Made Of! Susanne: 'Surpris-ed weren't the word. I were dumbfounded.'
But the glamour wasn't the only factor necessary for life to continue to flow through The Human League's veins. Even though Adrian had taken up the synthesizer, he still had to operate the by now per-fectly synchronised visual show (he had been elevated to an on-stage position well before this point). It became imperative that they recruit another member of the musician species. With four days to go before the Euro-pean tour Ian Burden, ex-art-school teacher, and erst-while bass guitarist with Sheffield combo Graph was asked to join the fun.
`Ian was roped in because we had four days before a German tour and we had nobody to play synthesiser on stage,' points out Adrian. 'If we hadn't got him we'd have had to have gone out with tapes of me and Philip - which we wanted to do at one point but we chickened out because we thought they might kill us!'
Burden, whose girlfriend shared a house with Philip, is a perfect foil for the ping-pong wit of the others. Tall, serene, with a humour dry enough to be a fire hazard, Ian's qualifications for the job were not as obvious as you might believe. Says his new boss:
'Ian never really liked the old Human League, he's a much artier sort of person. I think he was very surprised he even got on with us: his background's art school and we're just interested in pop records, basically.' More than anything else, Ian's 'serious' musicianship brought a whole new confi-dence to the band's stage show. 'We've always needed someone like Ian Burden,' Philip confirms. 'I'm good on words and tunes, but we've never had anyone who was really good at rhythms and bass lines.' 'Ian's a bass guitarist, very reggae-influenced. His heroes are Sly Dunbar and Robbie Shakespeare.'
bourbon every night
Put on a two month trial period ('like a new washing machine or something!') and given a weekly wage,
Burden enabled the League to fulfill their contracts and go out on the European tour. It was a masterful piece of bluff that cost much in the way of emotional wear and tear.
'That tour nearly reduced me to an alcoholic. I was drinking bourbon every night to try and forget what we were doing because I thought it was a vast con,' said Philip later. 'I've always hated backing tapes. The old group used them a lot and I hated them from the very start'.
Back home and the real cementing of the group, with new members, new roles and directions took place in earnest. Not that the old goals had been changed in any respect by the recent game of musical chairs, rather the degree of concen-trated attack on the group's more commercial aims had been microscopically focus-ed. Phil:
`In the old group we wanted to be pop right from the start but there were four people who all had different ideas about how to go about doing it.'
'We're starting to write pretty pop songs that are properly finished off. What we're about is tunes and, to a lesser degree, rhythms and lyrics, but really tunes - just the same as Abba or Michael Jackson or even Rod Stewart.oWe don't play elec-tronic music, we play pop music that happens to be done on synthesisers.' It was a remarkably simple shift in attitude but one that had far-reaching repercussions.
In February of '81, the new look League issued their first single Boys and Girls - a song which marked the collaboration forth e first time of Adrian and Philip as songwriters and the official membership of Susanne and Joanne. It reached No 48, the closest any League single had got to the big time.
Meanwhile pressure had begun to build up from Virgin over that old chest-nut - whether or not to use orthodox musical instruments as a supplement to the synthesisers. Adrian, `the floss-haired git' re-sponds in typically terse terms: `What people don't seem to understand is that it's our group and we can do what the hell we want'. Philip was slightly more eloquent: `The whole ex-periment that evolved in the very first place was: is it possible for a group - people who have never had anything to do with music-by using the brain and adapting modern tech-nology, that maybe they can get a record into the Top Ten without having any tradi-tional musical abilities? Doing it that way - that's what the experiment was.'
Using ordinary instru-ments meant using ordinary musicians, a change bound to instil fear and loathing in a couple who had just fought desperately hard to win and maintain control of the band. `The more people you've got,' Adrian insists, 'the more chance you've got of having arguments and things that don't help.' After a big confrontation with the record company the group reluctantly agreed to use other instruments simply because Virgin had inti-mated that they wouldn't push the League unless they did. As it turned out though, it wasn't at all necessary.
enter martin rushent
In April the group follow-ed up the thumbprint they had made with Boys and Girls with the Ian Burden/ Phil Oakey collaboration Sound of the Crowd - a record which bruised the chart at the number 12 spot, just failing to make the top ten's golden mile. The song marked the first partnering of the band with producer Martin Rushent as well as ushering in Burden as a per-manent member. Rushent, whose work with 999 had so impressed Oakey, brought a new dimension to the Human League's music. 'We spent I don't know how long on it (Sound of the Crowd) before we met Martin, and we'd bodged it so badly. We'd had this arrogant atti-tude, but when it comes to things like the whole basic balance of a record, we don't know how to do it. Martin Rushent does. I hope if we continue working with people like him we will know more.'
Rushent provided the vital ingredient to the song's success in that those weak drum sounds that Virgin were so worried about were swapped for a highly de-veloped synthesised drum unit developed in Rushent's own Berkshire studio, Genetic. A producer that could enhance and bring out what the League had been trying to convey all this time was all that was really missing from those gorgeous pop tunes and a change of attitude was all that it took to bring that situation about. Philip confesses:
'We were making bad records for such a long time. It was down to arrogance, thinking that we knew everything there was to know although we didn't. Reproduction is not too bad; Travelogue to me is a joke, I wouldn't recommend any-one bought it: I think it's that bad.' An ironical state-ment made in the light of the reappearance of both those albums in the charts, some-thing which pleases Adrian about as much as a tax demand.
Ushering in a phase of astonishing success was the band's first appearance on TV - a spot on Top of The Pops to promote Sound of the Crowd. It also highlighted the peculiar situation the two girls were in. Brought in for their glamour quotient alone, Philip maintains that their vocal ability only came to the fore during the re-cording of the single. Their joining in the first place was a bone of contention be-tween the band and their fans. Joanne commented, `Bluntly speaking, people look at us as two little tarts who are in a group. We've had it said to us!' Philip mentioned the resentment they received: `I don't think boys like the idea of girls being in groups. There's a stereotype they try to stick to. There's a hell of a lot of men, very, very scared of o men ,i.. They hate the girls in Germany. They threw beer cans at them over there, it goes so deep.' Joanne again: `Some people think that because a girl is in a group she has to go sleep-ing around with every member of the group. That's what people think.'
philip's main squeeze
The situation could not have been helped when Joanne subsequently be-came Philip's main squeeze, their love providing the inspiration for many of the songs on the band's third album. Apart from the fans' unfamiliarity with the girls, there was also Bob Last's doubt about vocal abilities. He wanted to use backing vocalists for the TOTP ses-sion but Susanne pointed out the false economy of it all. `We said we didn't think it was fair to us or the public because it was conning everyone into thinking we had superb voices. What would happen when we went on tour? Everyone would be expecting perfect back-up vocals and they'd get us. And if you use ses-sion singers when are you going to improve?' The band got their own way simply because the girls' combination of vulnerable, girl-next-door glamour and sympathetic amateurism was totally in keeping with the League's past and pre-sent image. The single also introduced the band's gim-mick of colour-coding their records. Recorded by Human League Red, it car-ried a red sticker, apparent-ly denoting the danceability quota -Red for posers,' says Susanne. 'For Spandy types,' adds Joanne. And Blue for Abba fans,' confirms Philip.
And red is the colour of the hit that followed, Love Action, the best record of that summer, which was rush-released in July to capitalise on its predeces-sor's success. Released in both 7 and 12 inch versions, Love Action/Hard Times smashed into the charts at No 3, finally awarding the band with the dream goal they had strived so long and so hard for. The brilliance of its simple, yet elegant chorus coupled with the bright bubbly melody line made it a compulsive sum-mertime anthem which de-served its accolade of being one of the best selling singles of the year.
the worlds most energetic human being
Never ones to lean on their laurels, the band had been recording tracks for their third album Dare and t fired off another cut from it in October, Open Your Heart - a single which brought Jo Callis' member-ship of the band out into the air. Callis, a veteran of groups such as The Rezillos, Boofs For Dancing and Shake, had been composing and recording with the League for the past six months. Introduced to them via Bob Last who also managed Callis, he's des-cribed by Oakey as being `the world's most energetic human being. He doesn't stop from when he wakes up to when he goes to sleep, which is about five in the morning. He can do any-thing. He's the best key-board player in the group, which is quite good when you consider he's not a keyboard player.'
With his history in the 60's soaked esoterica of The Rezillos, Callis made perfect sense as the extra member especially as he had a shared fascination with Adrian for all things pulp. When I first met him,' Jo recalls, `the first thing he did was open up his wallet and show the two Thunderbirds bubblegum cards with the words of this song he'd written. Three years later we eventually finished it.'
going platinum
In October '81 they released Dare to unanimous applause and quickly fol-lowed it tip with Don't You Want a song inspired by the film 'A Star Is Born'. Within a week of its release it reached No 1 on December 12, a position it held on to all over Christmas and the New Year. Not to be out-matched, Dare shot straight to the top of the album charts in tandem with the single and citing to the top right through the early months of '82. Their head-lining winter tour of the UK was an unqualified sell-out, finally removing all night-marish memories of that first ill-fated album-promot-ing jaunt. There's no stop-ping the snowballing popularity of the League now. Recruiting Mike Douglas (first heard on Orchestral Manoeuvres to The Dark records) as third keyboardist, the band now garner rave reviews for their live appearances - by this time Adrian's show consists of 17 projectors and 1400 slides; lie's built a box with buttons on it which lie plays on stage. In February '82 they won the coveted British Rock and Pop Awards for Best Album with Dare, which then went on to do them even more proud by going Platinum along with Don't You Want Me. Which means it has sold in excess of a million copies, a feat that only 16 singles have achieved since 1974. It's interesting to note that neither Adam and the Ants nor The Police have topped that mark. Philip celebrated in his own fashion by cut-ting off that long shank of hair, its purpose having been well and truly served.
The huge success that the band were now enjoying hardly saw them rushing for the Bahama beaches or zip-ping off to South America for a quiet Pina Colada or two. On the contrary, the band get a princely wage of something like £43 a week with Philip still dossing down above the studio in Sheffield.
The catalogue of their success seems almost end-less. The total domestic sales of their singles out-stripped the three million mark, whilst the EMI re-release of 'Being Boiled' chugged up to the No 6 spot in January '82.
Philip has his own expla-nations for the phenomenal success. `One of the reasons was that we changed the for-mat of the group and we changed around to writing songs where the words and the vocal line are the strongest thing there and that's supported by the others instead of writing in-strumentals and putting words to them. I don't think that the instruments really matter any more. I like to think we're the first grown-up synthesiser band be-cause it doesn't matter. Of all the synthesiser bands, there's us and there's every-one that copies Kraftwerk and that's about it.'
Having got their native country dancing itself stupid, the League set off in March for a European tour that kicked off in Berlin, realising that the market there is just ripe for a band that combine glamour with accessibility. After that they have lined up for them a world tour taking in Japan, Australia and the Americas even though they have been advised that that country 'will not buy the Human League'.
`That's what they said about The Beatles,' comments Phil wryly ...
If there's one thing the Human League need not fear, it's their ability to stay in the top rank. In the words of their vocalist: 'In the long term, so long as you're writing good songs, you've got i t made. It doesn't matter what you look like, someone will want to hear them. I think that's really what it's all about ...'
---
(Remark : I just included the photos showing Martyn or Ian, the book itself has got much more pictures)