British Electric Foundation - we ask the question: are the personnel political?
Glenn Gregory, Ian Craig Marsh and Marlyn Ware represent the company's case for businesslike autonomy and dart from disco deck to the heavenly Ultratheque, dodging dogma as deftly as they dance. Their aim ... a foothold between design and demonstration. Their route ... from penthouse to pavement and back again. Their life ... the contradictions of suiting sober theory to the lightheaded tensions of an industrious night time. "If you can't stand the heat ... get out of the foundry!"
---
FIRST
AFTER a week in which I gambled and won, gambled and lost, slept a lot, accepted a lift, started to re-read some Nietzsche, stayed awake to re-watch Sweet Smell of Success, drove to Heathrow, flew up to Glasgow, decided to buy a pullover and walked around and around in the rain (was it raining?) I finally met the three big-grinning boys of Heaven 17 and the sombre minds behind British Electric Foundation and ... we'll finish later.
We met in the mini cafeteria of a Clydeside radio station, the first side-line stop of a ridiculously crushed-cruising paced "disco appearance" (don't worry: it's nothing epistemological) (yet) micro-tour. The three well-suited boys of H17 are to enter and enjoy the clubs (that's the way: that's no performance) and almost as an afterthought use their present voices to sing over pre-recorded backing tapes of three tracks from their Top 30 LP 'Penthouse And Pavement': '(We Don't Need This) Fascist Groove Thang', 'Soul Warfare' and 'Play To Win'. And chat and distribute and look on top of one particular world.
This involves discos or superior clubs and not especially (or at all) the rock-evolved ones, just the unselfconsciously in-touch or hi-tech ones ... ones tough from years (not just this year's pseudo - and why not? - socialite-up rev-olt) of dressing up chatting up getting up staying up snapping up. The make-it-work ethic: make the most, take the most, play to play. It's nothing new, but can still be shocking. Class soul fare. Desire and demand.
SECOND
This swift club consciousness is a small part of, a quick position in what H17 ... no, there's no explanation.
THIRD
H17 have no precedents. (They share their responsibilities).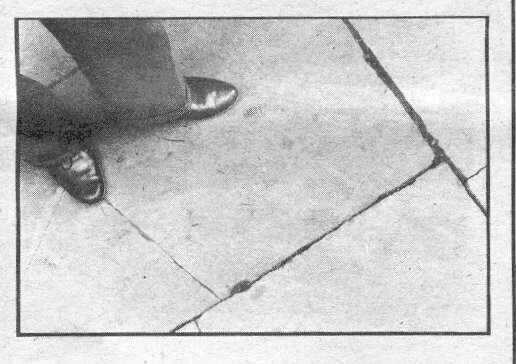 BEND
Most of what I seem to do with my weekend with H17's plain sailing trio is move.
We start by moving from the unnaturally quiet radio station (a few local MPs laughed loudly, that was it) into a densely smokey Glasgow bar and sit and listen to Garry of Unicorn Leisure - who own and proudly operate the three clubs we later lap up - as he delivers an admirably aggressive, admirably overstated, admirable, admirable sermon on the ineptitude of most club organization : the clumsiness, the clamminess, condescension, always aim for the lowest common denominator. London! he squeals. What a waste-land! We all agree when we can get words in between his. I'm beginning to warm ... no need to explain.
Glasgow, says Garry a little later when we're all standing in a take away pizza parlour taking a waiting look at shiny youths slinking by, has always been a dancing city.
BEHOLD
Glasgow seems to breeze on an uncommon ease. There seems to be a club or two and a good or gaudy looking restaurant on every other street. This is obviously an impression heightened by the speed of our stay, but still ... can' we believe a bit?
Ooooh. We all gasp. What? Watching Ultratheque come alive. Ultratheque, we all agreed in whispers and moans, was the best club any of us had ever been in. They'd only just opened tho doors: no staff, never mind revellers, but still ... no competition. Ten times better than anything in New York EVEN! I grasp. What is it? Well, I can say its pillars splendour lasers lights mirrors mirrors mirrors mirrors space design functional-flash the loveliest LADIES (Garry takes particular pride in showing us before people flock to occupy it) but you just won't know. I don't.
It's a jewel, perfectly provided for, sumptuous, immaculate, details like you'd wake up from, delicate staff, every drink under our sun cheaply ... and before you ask it's only £2.70 entrance on two nights a week and £2.00 on the other. Glasgow, you're spoiled. (I just said that to fill Gasbag with letters: don't be so literal). It's not a matter of whims and trivia and ... if you don't-know it's not worth the explanation it would take.
BRIEF
Line of chance, line of hips, line of movement.
HARD TIMES
After full scale confrontation with the take away pizza parlour, a squealing tyre drive and rushing down a hill, H17 get half an hour or so to eat and look neat in someone's flat. It turns out to be the only really relaxing break anyone gets - slumped in front of a TV unfolding detailed information about lost jobs, vacant lots, factories TO LET ... and Scotland, and Glasgow (although this had been the case long before 'recession' became a catch-all code word) look much worse than most.
The first engagement is a walk away, in a club called Maestro's-downmarket from Ultratheque, it looks much better than many. H17 run through the routine with hardly a hitch, and are just moving onto the dancefloor or pushing back towards the bar when we're all whisked off to Ultratheque.
CHIC
It's true, I think, floating into Ultratheque - one only desires. as a function of the machine wherein one is contained. Contours, contortions, cocktails . . . Ultratheque's gleeful audience, dancing to and with the best, appear to be a lot less desperate than a lot of London's nightlife. Maybe, I think, it's because we're desperate . . for something like this. (It could also be something sociological to do with London being made up of so many nomadic tribes, immigrants from Norfolk to Naipaul, cliques: divided.) Glasgow features a discreet integration of cool - the hi-fashion pose and the weekend pick-up mesh personably.
A girl with a wicked grin pinches my bum. H17 sprint through the routine with shouts and extravagant gestures and are just being dragged onto the dancefloor (runway? op art showcase? hallucination?) or spinning around the bar when we're all stuffed into cars for a one minute 60 mile drive to Edinburgh. By this time - club and appearance number three - it's about tam.
NONSTOP
The Edinburgh club is blaring unsurpassable old Motown - we all go gymnastic and H17 gallop through the routine without a twitch of self-consciousness. 'I didn't know whether it was day or night! - I started drinking everything in sight!' we're all getting ready to exit with the local clientele when the club manager announces he shall open another mini club upstairs for our rapidly increasing little entourage. Two Fire Engines man the record deck, people from Fast offer anyone jobs, and everyone tries to outdo everyone else's ridiculously energetic dance style. Two local cops settle in - hats off lads, a wee drink perhaps? - and watch our interpretations of Gibson Brothers, Kraftwerk, James Brown, David Bowie with bemusement. Everyone gets soaked and shouts: "Hard times!"
CAUSE
The afternoon after, one H17 voice has gone altogether and all three bodies feel diminished. "It was when we were all shouting along to Gibson Brother's 'Cuba'... remember? I didn't stop for 14 1/2 records. Oh God ..
That night the three baggy H17 boys have a club in Manchester and a club in Liverpool to rip through; they've overscheduled - overindulged - themselves, and alterations have to be made. The appearances are maintained, but no singing only miming, if at all. We have plenty of ideas - like, maybe play someone else altogether and just have them dance to it! = and they're duly noted for the future.
HEAVEN 34
The meaning of our lightheadedness. The greatest recent event - that "rock is dead", that any belief in the mythos has become unbelievable has already cast its first immaculately conceived shadows over us.
Walking into Ultratheque I knew that this was so. It's probably much truer of the provinces than of London. In Ultratheque it was so easy to feel unconfirmed, unconfined, unselfconscious and dying to get to work. That night was going to be an event: shattered, shattering . . . shadowy. (Shadows everywhere: bright white shadows, red shadows, transparent shadows, as well as all the usual dark, secluded, sniffling shadows.)
Walking into Ultratheque you are entering no mere nightclub, but a nightlife machine, scrupulously organised and sensually operated. Night shifts (into what you want it to.) I realised how far the bulky entrepreneurial monsters and fixed-fashion werewolves of the capital had scoured the fun out of staying out in London. I will be straying out in future...
HUMILITY
There are those around us, of course, who say-who SHOUT when sober, and haven't we learnt to distrust that?- that our concentrated skirting against the edges of today's long overdue and perhaps revolutionary emphasis on leisure instincts and pleasure technologies is somehow a disgraceful crime, given the current social-political climate.
- "You sober people who feel well armed against passion and fantasies and would like to turn your emptiness into a matter of pride and an ornament: you call yourself realists and hint that the world really is the way it appears to you."
You loud mouthed people who take prisoners with your 'examples' = you know, "I know x number of people who are unemployed or who couldn't afford to... The trouble with this sort of out-burst is that it allows for the equally meaningless opposition response - "I know x number of friends who can, who do, who..."
Take those ridiculous hoarsemen of the emblematised apocalypse, The Clash, talking to their captive audience in the NME last week: as if the rock (what?) industry had a monopoly on extravagance and dubious deeds, and as if they themselves lived in a Play School world of politics where the social picture outside varied according to which shape of window you chance to look through. Yeeuugh! Get out of the playpen, men. As if you only have to play Music Type 'A' to galvanise Audience Type 'B'. As if .- . . contradictions didn't exist.
Hold on to your contradictions: cherish them. Nurture them! Contradictions. (Does Mick Jones consider his Eileen Fowley LP any less a comparative 'indulgence' within our rock industry economy - economies of money and personality - than a new baggy suit or a cocaine receipt? Does he have a sneer for that fairly substantial section of the paying public who choose not to spend their cash on an Eileen Fowley or Clash LP but spend it instead going to ago go?)
Do you want to know what I think? I think that sober shouters like The Clash are stinking jealous of the uncluttered movers like Heaven 17, Specials, Beat who've seized the MOMENT and the moment's language and mode and resonance . . . with HUMOUR and a personal dab or dub of political humidity . . . without the metaphoric sweat or slog or slogan, without platitude or Art attitude.
You have to keep up with the fragmented state things are in:-- not just keep on about it with a moan and fall behind.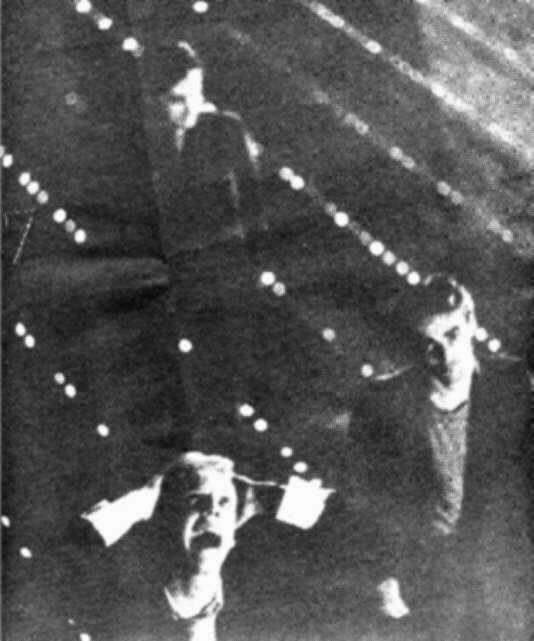 ONE
Appropriately enough, we try to interview on a train. This is comprised of the usual things: stops; starts, doldrums, gossip, japes, evasion, indecision, drinks, carryon. As the crow flies?
The first words on the first tape are spoken by Glenn Gregory; cut from the middle of a sentence. You're welcome to them:
. . . there is no ultimate truth."
TWO
"Martin gives Manchester the thumbs down. Is if grey? It's grey. Yeah, Sheffield's a pretty dull place . . . there's not much to do there, really. On Wednesday night there's one club called Pennys. "
Where did you all learn your dance steps?
THREE
"Where did we all learn our dance steps? Well, Ian doesn't do any.
Ian never dances - Ian has never ever danced."
Is that correct?
"It most certainly is."
"Ian Craig Marsh has never ever danced in his entire life."
THEORY BEHIND
Was this disco-appearance micro-tour planned . . . at the drop of a hat?
"It has not been planned at all. Oh come on -the idea was quite a while ago, but as regards...
...it was, it was planned six weeks in advance. The details weren't sorted out but that's just by the by. What Ian's talking about is the actual theory behind it."
"But we had no idea what we were gonna do once we got up there until last night...
"We were gonna get up there an sing! and look as if we were having a good time! That's the idea.
"Did we succeed - did we look as though we were enjoying ourselves?"
Yeah.
THEORY BEYOND
Wasn't this disco-appearance micro-tour originally supposed to be sponsored by Ricard?
"Ricard said they could do it, they would do it, all those companies would do it . . . and Ricard agreed to do it. But because they have to go through so much red tape at their end - in deciding how much budget they've got for various things each year - it takes them months to come to a real decision on paper to: say Well, here's the cash; it has to go through so many people and we needed it done in quite a rush. But in the future -if we organised it far enough in advance they certainly would be interested."
What does that entail: instead of the record company paying for everything . . ?
"Yeah, yeah, and we just have to wear PERNOD on the back of . our shirts and get lots of bottles of Pernod wherever we go . . ." "And also there was the idea initially that - say it had been Pernod, there would have been free Pernod drinks for people in the clubs at certain times, which I think would have been quite good . . :"
MOSCOW MULE
Vodka and ginger beer, shaken not stirred
THE SIP
The Richard Burgess . . . "attempt at the album was unsuitable for Hot Gossip's image, and they were desperately scrabbling around for some way of salvaging the situation. Carol Wilson at DinDisc just happened to have heard 'Penthouse And Pavement'- they played it to Arlene, who really liked it, plus in the past they'd all been Human League fans anyway, early Human League material. So their album was put together comprising three old Human League tracks, a couple of tracks off our album -'Soul Warfare' and 'Geisha Boys And Temple Girls' and a few other covers, a Sting song and Talking Heads' 'Houses In Motion'.'
Sounds like The Grace Jones ... method.
THE NEXT LP
... is called 'Music Of Quality And Distinction' and is cover after cover over cover. Many vocalists and mini marvels-but "just number one in a series, not just a one off" - including Glenn Gregory, Sandie Shaw, 'Perfect Day', 'Wichita Lineman', 'Be My Baby', Pete Shelley's'Are Everything' (already heard on the other side of 'I'm Your Money' recently)_, 'It's Over', 'You Keep Me Hanging On', 'American Trilogy', 'There's A Ghost In My House' and ... oh, 'These. Boots Were Made For Walking'.'
The next British Electric Foundation LP is, then, quite ''melody orientated".
THE PENT ... MENT LP
"Well originally it was a satirical comment on the aspirations of the middle class to aspire to working class roots that they'd never had in the first place . . . and the opposite of that, which is fairly obvious. The truly working class people not worrying a toss about credibility or inverted snobbery but just actually wanting to improve their lives. Alternatively, it could be a load of rubbish.
"The idea of it being a "concept album" is a load of rubbish, but there is some sort of theme running through it:"
Or spilled over it accidentally.
HUMANITY
'Penthouse And Pavement' is a startling, hurtling, starting, hurting LP of the year. There is no beauty, only accuracy.
FLESH
I mean, there is nothing to "understand" but much to make use of. Nothing to interpret but much to play with. 'Penthouse And Pavement' is the second useful object B.E.F. have marketed . . .
APPLIANCE
'Penthouse And Pavement' . . . a tool box?
VEER
H17 do not approach on a broad highway with blaring regimental music. But they have purpose enough to scare, and are as impolitely moral as anyone needs to be.
OFF COURSE
A long series of formal contentions ("technique") may suddenly explode into some marginalised convulsion: something will suddenly wipe out all the efforts (and the effects) of a carefully contextually controlled language. Snap!
"SEx in FAIryLAnd!"
OF COURSE
It is never formal, never a declaration of breaking off; this sort of outrage comes without warning, or reason, or plans, determined - and it is, very - either by the effect of an unendurable image or by an abrupt sexual reflection: sense shifts brutally to the sensual. Or versa vice.
STOP PRESS
"As we stated in the previous interview, it's absurd that you should be asking us anything. It's just the fact that you've got a job to do and we've got a job to promote the album. It's not there to talk about; it's there to listen to, unless it's meant to be some highly profound intentional political . . . oh, I dunno. It's all this hippie code myth from the '60s that music is the medium of communication with the masses of young people who're gonna change the world in the future. It's a real load of bollocks.
"I mean, music is there basically to enjoy - how many people sit down and listen to music and get inspired to change the world? They don't exist. Music has just been imbued with this ridiculously pompous . . . you know, they must be wonderfully gifted to be able to communicate with people. It's ridiculous. It's no more than a technical science, and if you temper it with a bit of soul -for want of a better word; not soul as in black music but as in a bit of human frailty - then people can enjoy it, and buy it. It's not going to change the world, though. It's just a medium for enjoyment."
STOP THIEF
Obviously. But it can alter specific areas of individual world-views. And in this respect, one leisure music might be seen to be less pernicious ant more demon-strative than another-=especially in terms of language development. You, for instance, have much greater tolerance for Bowie than for anyone else.
"I just respect him as an innovator-no, he's not an "innovator". Yes, he is an innovator! in the more general sense of the word, even though he's stolen every idea that he's ever had just about. He's ust not hidden his sources very well - not bothered to, not needed to, because what he creates s actually better than some of his sources.
"And that's what we're doing, I reckon. We don't pretend that what we're doing is truly original, because there is no such thing."
USE ME
'The whole idea of a set band - however 'talented' you are that doesn't mean you shouldn't get someone from the outside, that you should do it all yourself - I think it's rubbish. I think I played the odd couple of notes on the first side of 'Penthouse And Pavement' and it doesn't bother me in the slightest, I don't think it's at all important. You just yet other people who'll do the job, who can play - t's just ego, to think you have to do it yourself.
"You've just got to select, basically, it's a process of selection. The whole thing of musicians taking such pride in their ability to move their fingers aster than someone else - that is a much more ethnical and 'soulless' thing than what we're doing."
FIDGET
Take Eno ! It all stems from the Art School background: someone like that ist used to having an audience for their every formal move or 'progression' or'divergence'. And when they rebel it's just as bad - they expect an audience for their every resentful critique . . .
"I don't know: that's so alien to me . . . to all of us, even though everyone seems to think we come from that sort of background. We're all highly practical human beings!"
Take two: none of them went on to colleges of further education.
"It just amazes me, getting a grant to go to 'somewhere like an Art School! Why should you actually pay someone to become an artist? It doesn't make any sense."
The West just likes to show off how liberal it is by splashing out grants left right and centre. You've got to have your Arts allowance to show how 'democratic' everything is: no State censorship here! Maybe you lot should try for an Arts Council Grant.
"We might . . ."
What about the other two chaps in the original Human League-any Art School background there? (Let's all have a witch hunt!)
BLUSH
"Adrian certainly has; he keeps quiet about that though! Phillip did a lot of drawings and things but he never went to Art School, he never really had any desire to, I don't think. His wife was a very good artist, still is I suppose."
The inevitable - well of course I prompt them! - trickles, then dam-busting floods of gossip begin, once the two old Human League colleagues have been brushed gainst.
"No, no, really - I think Phil's losing touch with reality. And it's showing physical signs, his body and face-are beginning to sort of swell up like that bloke did in Altered States . . ."
Oh, and on it prolongs . . . but you don't really want me to carry on the ticklish feud do you? (I really can't seem to find it on tape, now you come tc mention it; could it have been wiped off in my absence?)
TELEOLOGICAL
H 17 go back to Bowie knowingly or unknowingly escaping the constrictions of being a securely considered, turned-out "individual" through his un-characteristically turning the process into the programme . . . of turning exploitation inside out. For in the first place it is only the imposition of capitalist relations of production upon the irrational, internal, invisible bends of desire which produces the need for a steady and steadying turnover of STARS, of star-commodity disguised as wishful-thinking on the part of the audience.
The comforting thought that underneath the mask is the "real" personality of the star: which one gets your money, which one your rapture? With Bowie they became indivisible, in a hitherto unthinkable way.
Or the Kraftwerk organisation, where the balance between the devices of profit-accumulation and the. desires of -',creative' production is similarly subverted - precisely through the over obvious maintenance of that balance! Technological bliss.
See the 'Penthouse And Pavement' sleeve. Or just watch the adverts on TV where personalities 'play' themselves.
MOTTO
Make a line, never a point!
PARTIES
H17 are interested in the art of moving counter to certain forms of persuasion or repression, in other words dogma. Where's the point? A tactical struggle at the point of consumption. H17 propose to live (well) through today's monolithic and subtle capitalism in an aggressively innovative way . . . well, 'innovative'.
Every position of desire and demand - no matter how microscopic- is capable of calling into question the entrenched order(s) of our sleeping society (which cannot take breaks in sense, in sequence, in science, in semblance- it is no-nonsense, non-nightsense, clean and flat).
PARTS
H17 desire a certain sound so they hire someone to provide it for them. It's nothing short of . . . it's quite unremarkable. I think that it's quite astute. No bleating about the blush: desire and demand. The resonances of the miniature decision; looks plain on one Mane. looks perfect on another.
PARTING
Heaven 17 is one is three are many is one part of B.E.F. is limited in many ways.