ARTICLES AND REVIEWS
OUT OF THEIR LEAGUE
Heaven 17's continuing Groove Thang
BAM 256 24Apr1987 - LA's Music Magazine
by Cary Darling / Photo John Stoddart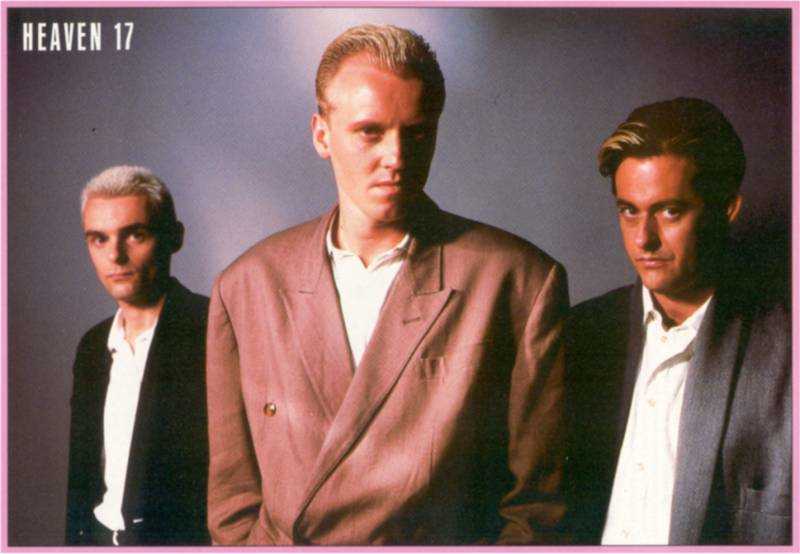 Heaven 17 have been the victims of some hellish luck. Band founders Ian Craig Marsh and Martyn Ware were members of the Human League but left before the band hit paydirt with "Don't You Want Me." The first Heaven 17 album, Penthouse And Pavement, was re-packaged in America with a distinctly unappetizing sleeve and their subsequent albums, The Luxury Gap and How Men Are, only received the slightest whisper of promotion. Of course, Heaven 17 - who also include lead singer Glenn Gregory - haven't helped themselves by refusing to play live. The result has been that the trio's vaguely political, densely textured electrodance rock has been all but ignored except by the clubgoing cognoscenti.
But this doesn't matter too much to Marsh, who is in charge of Fairlight programming and administration. He'd just as soon stay at his London home, part of which has been converted into a studio, writing songs with the aid of his MacIntosh computer and assorted keyboards. In fact, he's glad to be out of the Human League because they insisted on playing live, a proposal he thinks preposterous. "We played quite a lot and didn't enjoy it that much," he maintains. "Onstage, it was fine but with everything that goes with it-hotels, travelling around in mini-buses - was kind of boring. It's not like we're jazz players improvising wildly every night, so it's kind of pointless. We much prefer the writing process. That combined with the fact we lost a load of money touring with the old Human League put us off it. And we'll stay away from it until someone can tempt us to do it again-which would probably take quite a lot of money, because we don't particularly like the lifestyle."
The other aspect of the Human League which he found hard to live with was their insistence on using electronic instruments exclusively. "That's why we dropped out and formed Heaven 17 because the equipment was limited," he says. "Obviously, when sampling came along, there were a lot of things you could do, and with MIDI things are getting better. But there's always going to be a place for live musicians, especially for solo pieces. You can't get away from using real instruments unless you spend a hell of a lot of time programming and getting all the little nuances. But, if you're doing that, it's pointless. You might as well get a session player. If you want it so realistic, why not use the real thing in the first place?"
And that's what Heaven 17 have been doing over the course of their last three albums. Even though the new LP, Pleasure One, is their first for Virgin America, the new arm of the successful British record company, it continues in the same pattern as its predecessors. Electronic, electric, and acoustic instruments are overlaid with the gospel-inflected vocals of a five-part female chorus, horn charts supplied by the Earth, Wind & Firespawned Phenix Horns, and topped off by the lush, deep lead vocals of Glenn Gregory.
It's sleek, highly polished, studiobred music, which shouldn't be too surprising given that Marsh and Ware didn't really want to form a band at all when they left the Human League. They wanted to be producers and, to that end, they founded the British Electrical Foundation (BEF) and struck a deal with Virgin UK to supply records with Marsh and Ware as musicians backing different vocalists. One of the singers they worked with was Tina Turner, and the result was a reworking of Al Green's "Let's Stay Together." They also produced part of Private Dancer. The material recorded with Gregory was released under the name of Heaven 17, and it was this project which mushroomed into a full-time career. "The workload became ludicrous and so we gave up everything else," says Marsh, who was also given a nudge to give up other projects as the British press attacked the BEF album, which featured various vocalists.
"The album wasn't well received by the critics and it didn't sell well. We spent a lot of time on it and we thought it was great. So, when it got slammed in Britain by the press, it kind of put us off," admits Marsh who feels, at some point, they will record another BEF album.
On the other hand, Heaven 17 became a dancefloor favorite immediately with the explicitly leftist "(We Don't Need This) Fascist Groove Thang." The band's political stance -Marsh considers himself a socialist - was influenced by the time they spent in Sheffield, a chronically depressed area in Northern England which also produced such bands as ABC, Cabaret Voltaire, and the Human League. But, over the years, Marsh has found himself becoming less enamored of overt propaganda pop like "Groove Thang" ("You can only write a song like that once," he says) as well as some socialist organizations like Red Wedge, a loose union of left-leaning Brit pop stars. "When it first started we were involved a little, but not so much now because they seem a little confused," he says.
Marsh is also suspect of some pop star solutions, like the more blatantly socialist Housemartins' call for the nationalization of record companies. "I'm not in favor of nationalization in its old form. You just end up with a centralized state and that doesn't work," he maintains. "Smaller units, decentralization and cooperatives are more interesting; that's where the people involved have direct control, as opposed to centralization which I don't think ever works and which is what's wrong with socialist countries like Russia. I can't see how a nationalized record company would function. It's easy to say that, but what the hell does it mean?"
Marsh, and both his cohorts, are actually tiring of life in London, whatever its political stripe. But, especially if conservative Margaret Thatcher is re-elected as prime minister in the next election, Heaven 17 might follow the advice UB40 provided in "If It Happens Again" and take up residence elsewhere. "We've all thought about moving from here anyway, and that could well tip us over the edge," laughs Marsh who personally favors Italy as a destination.
For now though, Heaven 17 can be found in their small studio with Martin at the keyboards ("because he's the most musically competent," says Marsh) while Ware and Marsh give "nods and grunts" if he's going in the right direction. "We'll basically construct the song in the studio. None of us is musically trained so we tend to all play it by ear and feel. Then later on, usually after everything's done and at the end of the process, we sit down and write lyrics together. And that's also battled out line by line."
This is going to be the year Heaven 17 turn their sights towards North America, something they never did in the past because they felt their old label, Arista, wasn't particularly interested in them. "Initially, they were quite excited, but when things didn't happen straight away with the first album, they kind of put us on the backburner and didn't pay attention to us."
But don't expect any live shows here. And while they have made recent videos, for "Contenders" and "Trouble" from Pleasure One, they also might banish these from future schedules. "We go to [dance] clubs, which is what our music is made for anyway, so we get feedback from that," Marsh explains, dismissing the notion that concerts and videos offer valuable audience reaction. "I never completely agreed with this idea of getting feedback at concerts. I never got that from when we played with the Human League. I think you get more feedback from going to clubs and seeing what's happening."
Marsh says all this has not meant a confrontation with the record company. "Obviously, for the present, we are still making videos but we've never had a problem in England with not doing live shows, ever, " he says. "And, as far as I can tell from discussions in America and Canada, they haven't come on real heavy saying we've got to tour."
Heaven 17's abstinence from live shows was broken only a handful of times when Gregory sang "Groove Thang" as part of a Red Wedge show and when the whole group performed on various British TV shows. But this taste didn't change their feelings. "It worked quite well and proved we could do it if we need to," Marsh admits, then adds with obvious distaste, "but I still don't think we want to do it."