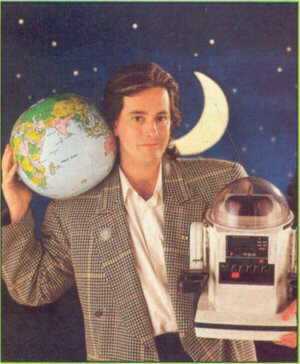 MARTYN'S WARES
I brought along the plastic globe as a gift because I liked the idea of giving away the world. The robot is there because kids like them and they're a kind of vision of the future."
WORDS ON WISING UP
"You very soon realise that fame is more of a pain in the arse than a benefit. Obviously it affects the likes of Duran Duran and Wham far more - we can still walk around town without being harassed too much."
"Mind you, we value our independence. We've never sold our souls for rock'n'roll as they say, which is nice."
MONEY
"We have a joke phrase we bandy about, which is 'remember what it's like to be poor. It's part joke and part truth."
"I had to leave my last flat in Sheffield without paying the rent because I couldn't afford £150. I lost a mammoth American Comic collection in the process, because we had to do a moonlight."
"That wasn't so long ago, and I always remember that there is a chance that things will and up like that again."
FAILURE
"It's a hard thing to come to terms with. We were so naive when we started The League. We didn't understand why our music was good, bad or indifferent. Now I think I understand why people like, or dislike, our music."
"Our latest album requires a certain amount of effort from the listener, which may sound funny coming from a pop group. But the more they put in the more they'll get out."
THE MUSIC BUSINESS
"I've sussed it actually. It took me along time -about seven years."
"It's very sordid. It's awful. There are a lot of people involved who know very little about it. It makes you sort of gratified when you can get one up on them."
"Also, I thought that when you joined a group you became instantly irresistible to the opposite sex! It's a total fiction of course, and eventually you realise that that sort of thing isn't worth very much anyway."
TECHNOLOGY
"I do all my banking and accounts on a computer now so I don't have to mess around with forms or anything. Soon I'll be part I something called The Knowledge Index which links you with 25,000 publications across the world."