ARTICLES AND REVIEWS
"room at the top" by Fiona Russell Powell, photos by Sheila Rock

The FACE No.43 November 1983
The son of a Sheffield steel worker, Glenn Gregory's ambition was to become an actor. Instead he found himself playing the role of pop star with Heaven 17, whose album titles - "Penthouse And Pavement" and "The Luxury Gap" - evince an odd preoccupation. Is this the sort of irony a self-confessed socialist should be flirting with ?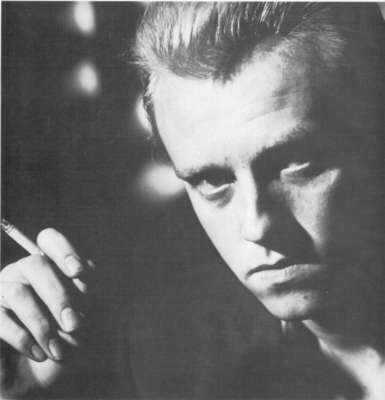 I found a tape the other day of a practise interview I did with Glenn Gregory before I'd started writing. This was about the time of Heaven 17's "Fascist Groove Thang" and, listening to our 'interview' again, I realised what a patient guinea-pig Glenn had been. I first met Glenn when I moved to London from Sheffield about three years ago. Strangely enough, Inever knew him when he lived in Sheffield although we soon learnt that we used to hang around with a lot of the same people at the same time.
When I arrived in London homeless, clueless and broke, he and his girlfriend came to my rescue and put me up in their basement flat in Ladbroke Grove, being very decent about my impoverished state. This was all pre-Heaven 17 of course. At the time Glenn's ambition was to become an actor in the mould of his hero Jack Nicholson. Little did I suspect that two years later he would be a familiar face to us all on Top of the Pops.
Glenn, the only son of a steel worker, was born in Sheffield twenty-five years ago. He grew up on the Flower Council Estate in Shire Green, one of the poorest and roughest areas of Sheffield. His school career was "fairly unspectacular". At junior school he achieved his first musical distinction: being booted out of the music class for playing the recorder, he now admits, "rather badly." From there he went to Hinde House Comprehensive, one of Sheffield's largest and most overcrowded comprehensives, where he spent most of his time "dodging schoolwork and messing about in the quarry - being a bit of a yob". When it came around to CSEs, Glenn had already decided that he wanted to be an actor but his dreams were soon thwarted by his careers advisor who told him to "be realistic" and sent him off for interviews for jobs as a sheet metal worker or forge operator. But the frustrated 16-year-old refused to be crushed and eventually found salvation at the now legendary (in Sheffield at least) Meatwhistle.
Meatwhistle was a type of theatre/arts workshop cum stomping ground for teenagers which was started initially for a six week period culminating in a performance of Marat/ Sade at the Crucible Theatre. It was so successful and popular with the kids that the people who ran Meatwhistle received a grant to keep it going for Another four years. Glenn explains its attraction:
"It was so unformularised, there wasn't anything you couldn't do. I remember the first time I was there ... They'd got this big new five storey building. I went up to the top floor where there was this sort of old chemistry lab, and me and me best mate Mick Billard just smashed all these windows, about fifty windows in twenty minutes! We thought it was great. "
Many of the people who are part of the glut of creative activity in Sheffield over the last six years came out of Meatwhistle. It was certainly a breeding ground for a lot of talent. Amongst others that Glenn met there were Phil Oakey, Adi Newton, Martyn Ware,, and Ian Marsh with whom Glenn embarked on his pop star career in his first band, Musical Vomit.
"Lots of bands came from there. Musical Vomit started off as a two-piece with Ian Marsh and Mark Civico singing really crap Alice Cooper stuff - this was around '74. But then I started to play bass, Simon Hall played bottles filled with water and Ian Marsh was on a synthesiser that he'd built himself. It was as big as a table with lots of valves and things but all it could do was make motorbike noises. We did songs like 'Vomit Down the Toilet' and 'I Was a Teenage Necrophiliac' and 'Denim Mind' which was like a Status Quo piss-take. 'From my denim undies to my denim whiplI've even got a bird with denim titslI've got a denim mind'. Very punk reallyl There were lots of offshots from Musical Vomit like 'Lister Gregg and Red'; that was me, Ian Reddington (now an actor) and Adi Newton (now in Clock DVA) pretending to be Crosby Stills and Nash - it was fairly dada,'a bit like Ivor Cutler."
It was also through Meatwhistle that Glenn got his first job working as props manager at the Crucible Theatre which in turn prompted him to move to London where he stagemanaged a performance arts show at the ICA. But Glenn's good luck ran out fairly quickly after that; he was out of work for quite a long time and fell in with some rather unsavoury characters ...
"They were a big family who I'm not going to name and ~hey all worked in the theatre and whenever there was any work going, people had to go through them to get it. I was really friendly with them at the time - this was around '76 - and we used to go down to The Roxy together and get really pissed ... One night there was about seven of us down there and they had a big fight which spilled out onto the street and there was bottling going on which I'm not into at all, so I thought I'd better leave London quietly for a while and not get involved in this".
So Glenn returned to the safety of Sheffield where he lay low throughout the glo~Ous year of 1977 when the Crazy Daisy was in its prime and every party was a good one - fond memories which are shared by Glenn: t'It was a great year! There were a lot of bands being formed in Sheffield then. I was in a band called The Studz and we supported The Drones. Richard and Mal from Cabaret Voltaire joined us on the night, so there were about seven of us on stage. Richard and Mal were completely pissed and just screamed down the mikes. We did a 20-minuteyersion of the theme from Dr Who. Adi and Martyn were thrashing away on guitar, just playing the bottom string, so we turned them right down so no-one could hear them. Then we did 'Louie Louie' with me singing the words of 'Cock in my Pocket' to it because I thought that was. what they' were playing. It was absolute chaos . . . I left Sheffield about five days after that and Ian and Martyn formed The Future who later became The Human League."
The second stay in London proved to be more permanent when Glenn moved in with his long-term girlfriend and joined a band called 57 Men. Not much was ever heard from them, although the bass player, Lee Gorman, later went on to join BowWowWow. Meanwhile, Glenn got work first as a photographer's assistant ("I conned my way into that one - I knew nothing at all about photography") and then as a kind of teenage social worker at Acton Community Arts Workshop - this was directly before Ian and Martyn came down from Sheffield to ask Glenn to sing in their new band which they were thinking of calling Heaven 17. Although it's been a fairly bumpy two-year ride to fame and recognition, Heaven 17 have now very definitely achieved an enviable position in British pop music with little or no compromise.
Even though Glenn is not as involved with the Heaven 17 parent BEF as the other two, he is already reaping the rewards of being in a Top Ten band. He has just bought a L50,000 flat in Notting Hill Gate where he lives with Sarah whom he recently married and their Yorkshire terrier, Rita. It's a far cry from the basement just off Portobello which sheltered me from the evils of London. Glenn sums up his feelings about his previous address for the last five years: "95 Oxford Gardens was a pit. When we left that place, we went backthere and stuck all the furniture on the ceiling with Superglue to get back at that little twat of a landlord. It was very childish but very satisfying.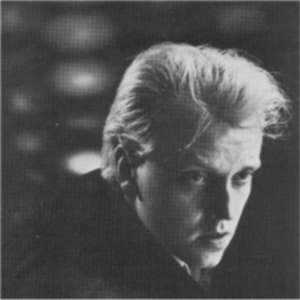 "The new place is like a palace in comparison but we've got problems there as well. There's a cow of a girl that lives upstairs who complains if you have the radio on in the daytime - she's a complete lunatic. We've got a Portastudio, a couple of Casios and a drum machine which Sarah's using at the moment to write some songs (Sarah used to be the singer with Allez Allez) and this woman was banging on the ceiling like mad so Sarah had a big argument with her last night. She went up there and said we were trying to write some music and this girl turned round and said 'writing shit you mean!' She's got these weird little hand-written notices pinned all over her flat saying things like 'I am strong', 'People do like me', 'There is no need to be afraid of people'. So you see, you can't reason with her. "
For someone who was born and bred in the traditional working-class way of the Northern poor, life has changed a lot for Glenn who now shops at Ebony and Browns, wears made-to-measure suits from Antony Price and furnishes his flat with antiques - quite a luxury gap. Does he look to his father (now made redundant) for the inspiration to write a song with such an obvious message as "Crushed by the Wheels of Industry"?
"I don't think of my father because he never let himself be crushed as it were, he's always ridden above it. But I've seen it happen. I go back to Sheffield and I see friends I used to go to school with, I see them in working men's clubs and they look,just like their fathers, it's very sad ...
"I am a Socialist - from birth really; my dad was a shop steward and all that. The flat is the first thing I've got financially out of my two years with Heaven 17. As far as being famous goes, I haven't changed at all although it is quite a weird feeling ... Some of the letters we get make you wonder. Ian, got a really good one the other day from this Swedish gay guy saying 'Are you the one with the beard on the front of 'The Luxury Gap'? And does 'Come Live With Me'mean you will come and live with me? And if you want to see my picture buy this month's copy of Gay Photo'! There's one guy who's written to us'about three times now and his letters always start off quite nicely but end up by saying: 'If I get a letter from a fucking secretary with a photocopied signature then I'll never buy any Heaven 17 stuff again and if some poxy secretary is reading this now, she'd better make well sure that the boys read it'!
"I got a bit annoyed the other day, though, when we were in Bath for Gregg's wedding he's our co-producer and engineer - and we were followed around all day by this snotty little kid with a big round face, sweat on his top lip and a horrible nylon jumper. He kept taking sneaky photos of us with his Polaroid. Eventually he came up to me and said 'You're Glenn Gregory, aren't youT I said yes and he said 'Where's Phil Oakey thenT Then he said, 'There's one thing for sure anyway, he's a puff!' I said -"What makes you think that?" and he said "Well, he wears high heels doesn't heT He was really persistent so in the end Sarah told him to fuck off. I think we lost a fan that day".
Amusing anecdotes aside, I can vouch that fame hasn't fogged Glenn's perception of himself - he is still the generous, overconfident, charming, part-time buffoon that he's always been. I only hope he will stand the test of time.