ARTICLES AND REVIEWS
Gregory's Gossip

Record Mirror 02.February 1985
In our fascinating profile of Mr Glenn Gregory, crooner of this parish, we discover what Heaven17 and toilet paper have in common. And there's more ! Paul Sexton is enthralled, and that's no lie...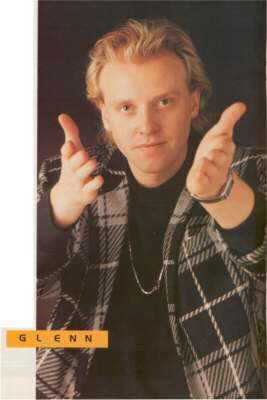 FUTURE TENSE: THE HEAVEN 17 ALBUM PROJECT
The band are working on an album at Air Studios in the West End, aren't they Glenn?
Yes. We take quite a lot of care over our 12inches and always have done, right from 'Fascist Groove Thang', and quite often put two different 12-inch mixes on B-sides of things, so people don't always get to listen to them. So what we decided to do was a double album of all our 12-inch mixes, and it's got four tracks each side, each side's about 20, 25 minutes, so it's a bargain pack. At the moment we're working on the title of 'Stronger And Longer', which we're not sure about. We lifted it directly from the Andrex ad. The tracks certainly are stronger and longer, it's certainly true ...
Will it include all the hit singles?
No, there are some missing, but it's certainly got most, it's got the new one, 'And That's No Lie', it's got three or four previously unreleased tracks on it, some remixed ones, a megamix that lasts about 12 minutes, that's very funny and there's a remix of 'Penthouse And Pavement', that's very good as well. Quite a lot of new stuff there.
PRESENT TENSE: THE BAND AID BEANFEAST
That all turned out rather bigger than you expected, didn't it?
Midge phoned me up the day before, and I only live round the corner from Sarm West, where it was recorded, so I just toddled round there about 10 o'clock, and I had no idea how big it was going to be, no one would tell me who was going to be there or what was happening. So Marlyn and I toddled round with a bacon sandwich and a pint of milk in each hand, walked round the corner and there're 20 camera crews there! So we quickly stashed the milk and the bacon sandwiches and walked in, pretending we knew what was going on.
PAST TENSE: GLENN GREGORY GROWING UP
What was the first record you ever bought?
To be perfectly honest, the first one was one of those 'Top Of The Pops' compilation albums, with NOT the original versions. It had the song 'Me And You And A Dog Named Boo' on it. My Mum and Dad had a Dansette for years that didn't work, then when I did a paper round I got a radio and tape recorder, and I used to sit there with the pause button taping things off the radio.
Have you got a big record collection these days?
No, I sold them all about 18 months ago. I've never been a hoarder, I hate things cluttering up the place. I've started buying them again, but I've probably got about 15 or 20 records. I literally sold everything. I sold my record player as well, I just thought 'bugger it'. The highest price was for'Jammy Smears', by Ivor Cutler, I got about E10 for that.
The newest record I've got is 'Pleasure Dome', I think there's some really good stuff on that. I get fed up with all the talking, though. I've got a couple of Dean Martin albums. That's from my mother, she was always playing that around the house. And Anthony Newley singles. But I'm really against hoarding, I'm the sort of person that when I get a Christmas card, I read it and throw it away. But my place is a total mess anyway.
How about gigs, did you used to go to many concerts?
I used to always break into City Hall in Sheffield. We used to rush up, and there'd be this old guy on the door. He'd stop about four aQd the rest of us would rush in. That's what made it fun. I don't think I ever had a ticket for a gig there. Oh, yes I did, there.was a Mick Ronson concert I had a ticket for, but that was because my friend forged them. And it worked as well. No, I did buy a ticket for Lou Reed once.
Another good one, when I was 16 or 17, 1 had my first suit on, a nice tweedy thing. Alex Harvey was playing, and there were all these kids at the door trying to get in. I walked right through them and said to the bloke on the door 'Right, don't let ANY of them in' and he said 'Righto' and I walked straight through. Definitely the best bit of blagging I've ever done.
D'you go to many films?
I don't go to many, because Sarah,my wife has a phobia about cinemas. Occasionally I'll go by myself. My favourite film of all time is 'The Tin Drum'. That and 'The Shining'. The first film I saw was 'Our Man Flint', it was a sort of James Bond piss-take, my Dad took me (by the way, Glenn, the bloke we were tryinq to think of in that picture was James Garner). Then 'Zulu Dawn', we went to see the tits. This is as kids. I enjoyed the film more than the tits, I was a late developer. (Barry Norman's note: 'Zulu Dawn'wasn't released until 1979, he must have been an extremely late developer, Perhaps he meant 7u1u7)
Are you a football fan like Martyn Ware ?
No, I do follow Sheffield Wednesday but not as closely as he does. By the way, he's broken the curse (this is Glenn's reference to my Ware's Curse On Wednesday'story in the football season curtainraising RM special back in August). He met the team over Christmas as well, one of our friends arranged for him to go into the Wednesday dressing room.
Which radio stations do you listen to?
Radio Two and Radio Four ... and Radio One in the mornings 'cos I like to have some idea what's going on. In the bath I listen to John Peel for old time's sake. In the car, I listen to classical music, and I tend to drive how the music's going. If it's Strauss, I'm waltzing all over the road. If it's Beethoven, I'm going all over the place. Martyn gets very scared. , Don't buy any Wagner whatever you do', he says.
Any nicknames at school?
I never ever had a nickname. I wouldn't stand for it. It was 'Glenn', not even 'Greg', or a thick lip.
What were your first few jobs?
The first job I got was boning bacon at the local coop. Strangely enough I went in and put my coat on a hook and that said 'Marlyn Ware', it was his old job. I had quite a nice sideline in wines and spirits and Easter eggs.
I worked four days at Moss Bros, then I got a job at the Crucible Theatre, so I left Moss Bros, taking with me a couple of scarves, a hat, an umbrella and on to the next job. . Then I started doing photography. I actually took pictures of the Human League that were published in Sounds. They were playing live in Sheffield, I was playing pool in a pub called The Raven, and Martyn came up and said 'Can you do us a favourT I've still got the negatives. I think I had a couple of other things in NME as well.
How did you most your wife? Or shall I call her 'Gregory's Girl'?
She came up to me at The Palace, poked me in the stomach and walked off. She's really smart and there were all these big people around us, I couldn't understand where it'd come from. Anyway, Martyn had agreed to produce Allez Allez, the band she was in. After a while she proposed to me and I accepted. We got married on January 1. It made one hell of a party ... Bishops Stortford's never seen anything like it.