ARTICLES AND REVIEWS
HEAVEN 17 ... or music for business and pleasure.
Ian Birch checks their accounts.

Smash Hits 17-30.September 1981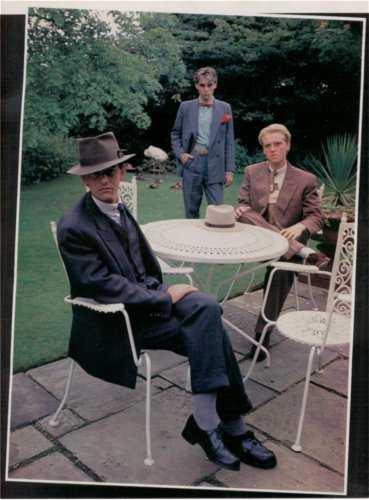 BACK IN the middle '70s when punk snapped out of the woodwork, everyone wanted "complete control". It was a Robin Hood policy - steal from the rich, old record companies and set up your own young, independent label in Sherwood Forest.
Then came 2-Tone and everyone wanted the independent label and the big company to work more closely together. The idea was that both parties had the same aim - to sell as many records as possible.
Now the electro-pop-pickers have gone a step further. They form their own companies which are independent offshoots of the big companies. John Lydon & Co. want to look less like musicians and more like businessmen with shares in music.
The latest here is the British Electric Foundation. When the Human League (Mark 1) split up last October, Phil Oakey and Adrian Wright kept the name, slowly recruited Susan, Joanne and Jo Callis and became a dreamboat chart band.
Ian Craig Marsh and Martyn Ware, however, decided that they'd had enough of "traditional" pop groups and so created B.E.F. It's a production company qrganised on strict business lines. There are, for example, three managing directors. Ian and Martyn have 42% of the shares while Bob Last, who is still The Human League's manager, has the remaining 16%.
"B.E.F.," Ian quietly stated "is a better way of organising our talents." It's not only a cheaper way of working but also allows them more freedom over what they can do and more control over the final package. (it's no wonder that pocket calculators are so chic. You can work out the accounts and write a song at the same time!)
What's impressive about B.E.F. is that they follow their words with action. Ian and Martyn work like madmen. Their first project was Heaven 17, which could be called their version of The Human League. They brought in old mate Glenn Gregory whose bass voice isn't that far removed from Mr. Oakey's baritone.
But the resemblance ends there.
Their first single, the already legendary, "(We Don't Need This) Fascist Groove Thang" set the tone with its furious synthesiser funk that had equal helpings of thoughtful experimentation and fun. "I Am Your Money" and "Play To Win" have kept up the standard but the real surprise is their forthcoming album, "Penthouse and Pavement".
It's supposed to divide into two distinct moods. The "Pavement" crop is meant to be the sweaty stuff while "Penthouse" signifies a more 'adult' approach. Forget that. Both sides are eminently rhythmic, urgent, spacious and concerned.
The duo have also unearthed several gems. Apart from Gregory, they stumbled across 17 year-old John Wilson in Sheffield. Before adding that sizzling bass part to "Groove Thang", he had only ever played on his four track tape recorder at home. And then there's Josie James who adds sumptuous back-up vocals on the album. A friend of Heatwave who, in turn, are friends of Heaven 17's engineer, Pete Walsh, she recently sang On Stevie Wonder's "Happy Birthday" single.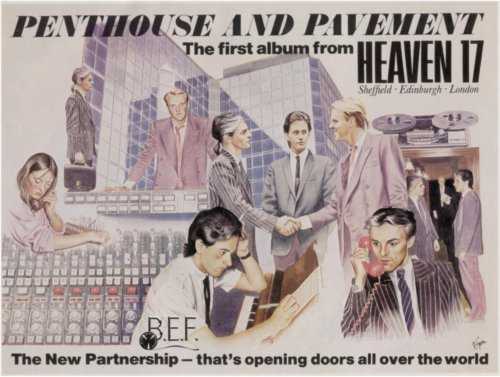 As if all this wasn't enough, B.E.F. have enough projects to take them through to Spring '82. The original Human League grew out of a band called The Future which was effectively Ian and Martyn. In the works is a compilation of tapes from the period. The working title is "The Golden Hour Of The Future".
There is also an opus called "Music Of Quality and Distinction" which will be a collection of cover versions with invited vocalists. Sandie Shaw, the barefoot singer from the '60s and now a teacher of Buddhism, should be tackling the old Ronettes number, "Be My Baby". Gary Glitter might be revamping "American Trilogy" which gave Elvis Presley a hit in 1972. They've already donemersions of Jim Webb's "Witchita Lineman", Lou Reed's "Perfect Day" and Pete Shelley's "Are Everything" (which has already appeared on the flipside of "I'm Your Money"). Can you wait?!
By the way, B.E.F. are delighted with the Human League's current success. Says Ian: "I knew the League were about to break. Although the singles weren't doing well, the album sales were rising ... I always thought they'd do well. They had the nanfe, they'd done all the groundwork and they'd reached those people who never read Sounds, N.M.E. or M.M hey're the ones who buy the records. We'll take a lot longer to break but we'll do it in the end."
He's right, you know...
Review of this LP in the same magazine by Dave Rimmer:

In which ex-Human Leagues Marsh and Ware toy with two distinct approaches. The "Pavement" half is spun round guest artiste John Wilson's daeft funk bass and features sax and piano.

"Penthouse" is darker, just voice and synthesizers. The title track suggest some overall "concept" but they don't seem to mean it too seriously. Whatever, this is often danceable, always intriguing and sometimes a whole lot more.

8 out of 10