ARTICLES AND REVIEWS
Glenn Gregory stars as "An Officer And A Gentleman"
No1! 18June1983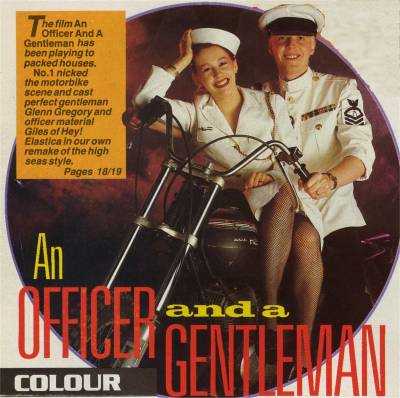 You don't have to join the army to wear a uniform.
They're chic, cheap and sexy-and it's a look that keeps popping up for both girls and gentlemen.
Bryan Ferry kitted out Roxy Music in army gear during the'70s, and recently The Coconuts have been sporting a look that mixes all three forces.
We picked an image from the navy since the film 'An Officer And A Gentleman' has brought back high seas style. But you can steal the senior service look even if, like us, you're not too keen on all the gung-ho aggression in the film.
We asked Glenn Gregory of Heaven 17 and Giles from up and coming Glasgow group Hey! Elastica to model it for us. Glenn likes dressing up in suits, but Giles is a self-confessed "scruff" who never wears dresses.
From the way they enjoyed the experience, it looks like military chic has gained another two recruits. We got all the clothes for our feature from Laurence Corner, 62/64 Hampstead Road, London NW1 2NU, just behind Euston Station.
If you live outside London, the shop do a mail order catalogue which you can get by sending 60p to the above address.
GILES'S OUTFIT:

LIGHTWEIGHT FORCES TROPICAL SUIT: £12.50

COLOURED LANYARD: £1.88

SMALL MEDAL RIBBON: 95p each

ENAMEL BADGES: 35p each

GLENN'S OUTFIT:

HAT: £10.28
JACKET: £6.96 from a selection
TROUSERS: £8.95
BLUE LANYARD ROUND ARM: 72p
MATERIAL BADGES ON ARMS: 95p each
MEDAL RIBBONS ON POCKET: £3.25 each
GOLD ANCHOR BUTTONS: 35p each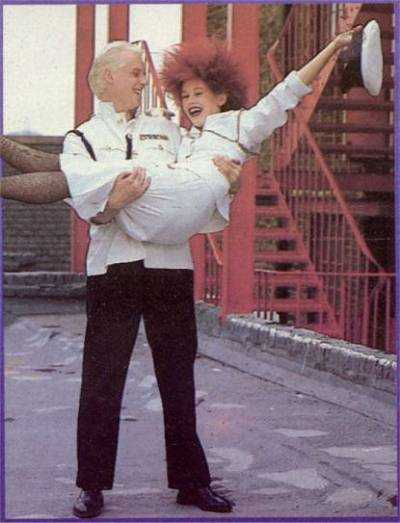 Pictures: Mike Prior
Research: Debbi Voller