ARTICLES AND REVIEWS
NO WARE TO BE SEEN ??
Record Mirror 25 August 1984 - Text : Eleanor Levy, Photos : Joe Shutter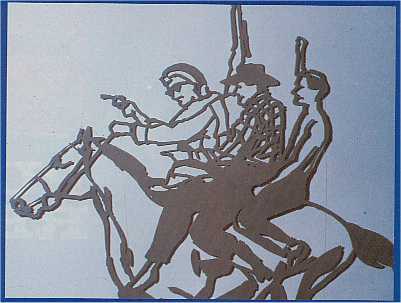 HEAVEN 17 have a mission - to boldly go where no man (or video) has gone before. "There's little new been happening in the last 18 months," explains Martyn Ware. "The 'Thriller' video was an obvious one ... it was the definitive, so why bother to carry on in that vein? That genre has now passed."
As a consequence, the band and artist Ray Smith - responsible for the drawings on all Heaven 17's albums - have attempted to break out of the medium's conventions.
"Everybody's making videos now," Martyn continues. "You have to for America alone. To have any success over there you have to do well on MTV, so consequently you've got the same number of ideas spread out among 10 times more videos."
The aim of their 'Sunset Now' promo is then threefold. Firstly, as Glenn Gregory points out, "It's just to amuse ourselves really." It's also an attempt to get away from uninspired artsy-farty promos ('Hide And Seek' with Howard Jones being a recent example) which generally show waves breaking on the sand and the star being sensitive and pretending it's art.
Finally, Martyn admits that a video is primarily there to sell both song and band. Glenn, though, doubts whether this latest project will be much use in promoting the three members of Heaven 17 themselves. They only actually appear in it as fuzzy enlarged polaroid snaps (taken in Martyn's front room) or brass cut-outs.
"I don't think the Germans are going to get a very good view of us as black and white cut-outs," he laughs, "and because we don't play live, videos play a large part in our promotion everywhere."
"Certainly if we were worried about that," Martyn continues, "we'd appear in the video ourselves in real life."
What is shown to replace endless shots of Glenn trolling about looking meaningful and/or wacky as he mimes to the words, is a five foot wide by four foot high arch stage. On this, some 60 to 70 cut-outs are used (including, for some reason, 27 telegraph poles).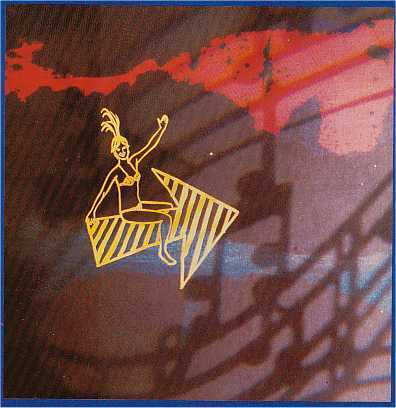 "Most of the models are cut out of line drawings," Glenn explains. "They cast shadows and the detail is incredible. We were completely shocked when we saw it, we had no idea how much work was going to be put into it. I'd be happy to have any one of those cut-outs as an art piece on my living room wall."
Martyn is also impressed by the model. "Basically, I think it's a masterpiece. It's the sort of thing that could easily go into a museum."
Eleven motors control both the models and the backgrounds, which spin round and repeat themselves endlessly like those in 'Top Cat'. The plan was to use no video trickery; so the success of the video rests completely with the model itself - the creation of Ray Smith and taking 10 days to build.
The group are involved in conceiving and producing a video for the first time and haven't used a production company. Martyn explains why.
"Because it's such a unique project there is no need to have everybody and their mother on the set - all bumping up the cost."
Even without this, they estimate it cost £20,000 to shoot, plus an extra £7,000 for the building of the model. For this you get the sight of the three men of Heaven 17 galloping across the screen in glorious 2-D, backing singers flying through the air on champagne corks, and of course, those 27 telegraph poles.
"It could, in fact," says Glenn, "be the world's most boring video. It won't be terrible, it couldn't be that - at worst it'll be ..."
"Mystifying," finishes Martyn. "It may not quite register up there (tapping his head), but it's definitely pure surrealism."
Eleanor Levy