ARTICLES AND REVIEWS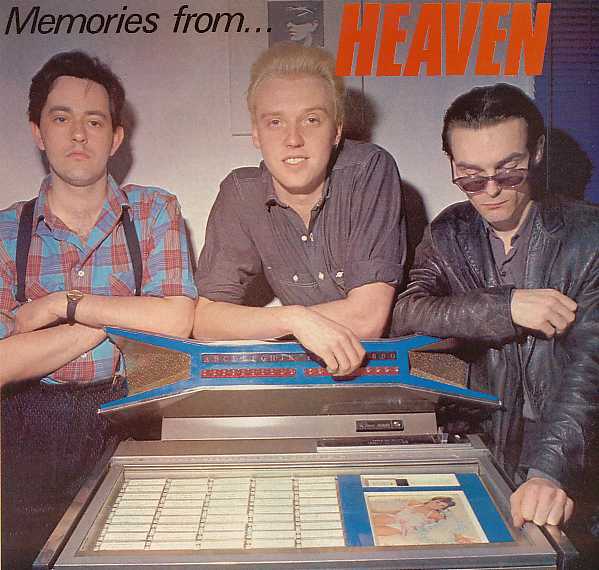 HEAVEN17's all-time faves revealed
Record Mirror 09 July 1983 - Text : Simon Tebbutt, Photo : Joe Shutter
REMEMBER WHEN debonair young trio Heaven 17 weren't the chart stormers they are today?
Recall that upmarket K-Tel style LP of classic pop songs they dubbed 'Music Of Quality And Distinction'?
Then to enhance your Heavenly knowledge, you'll wanna know Ian Craig-Marsh and Martyn Ware's fave tunes of all time ... so here goes!
MARTYN: "Hmmm. 'East River' by the Brecker Brothers,
"It's the most powerful heavy funk record that's ever been made. It just sounds stupendous.
The musical equivalent of a 'Star Wars' battle without all the bleeps. A really heavy monster sound. "
IAN: "Yes, it's brilliant. I think it would be my favourite of all time too. Another one is 'Heartbreak Hotel' by the Jacksons. It had a rather eccentric production on it. There were all sorts of bizarre machine noises in the background. That inspired us. It was the peak of their creativity. "
MARTYN: "I love 'Harvest For The World' by the Isley Brothers. A classic. Very subtle lyrics. Some of the way back soul stuff can be exceptionally bland, but provided they keep the melodic structures interesting it's great.
"From my childhood, l suppose I remember the Beach Boys' 'Good Vibrations' best. My sisters are quite a bit older than me and they always bought pop records. My eldest sister used to buy Elvis Presley, Anthony Newley and Adam Faith. The other sister, who's a bit younger, used to buy Bobby Vee records.
"There's stuff/ can't even remember but / hear them on the radio and it's flashback time. One / can remember clearly is Anthony Newley singing 'Pop Goes The Weasel'.
'I can also remember a lot of Tamla Motown stuff from a little bit later on. We didn't actually start buying records until we were about 14 or 15. l used to listen to Radio Luxembourg under the covers at night when l was supposed to be sleeping. I've got very distinct memories of hearing a lot of the Supremes' hits. "
IAN: "it's funny. Because we started buying records in the seventies you'd think that we'd be picking more songs from that era. Those seventies people were our idols. / couldn't imagine us doing a better version of anything by T Rex for instance. "
MARTYN: "We don't actually listen to pop music much. It takes a lot of the fun out of it when you find out how it's constructed. A lot of the music now has lost its magic. "