• Master of Mixed Metaphor Graham K Smith is the scribe at a strategic board discussion of Britain's most radical corporation

• Constructivist counsel: Carmen Dublin Visual records: Panny Charrington.

• Heaven 17: a division of the British Electric Foundation, a weapon of attack, a tool of expression, a commercial proposition.

• Heaven 17: golden-tonsilled Glenn Gregory plus BEF co-founders Martyn Ware and Ian Craig Marsh, literate, coherent, at once belligerent and charming, aware and inquisitive. Responsible for 1981's most provocative musical collision between precision synthetics and soul-not disco. A studied expression of experimental dabbling: heart and head to feet, via computer - where machine beat and heartbeat meet.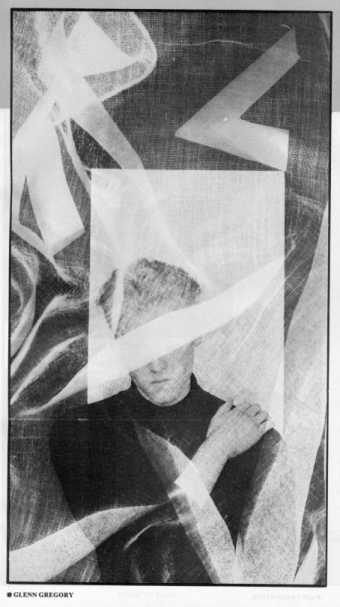 Glenn Gregory is tall, Ian Marsh is small. Martyn Ware does most of the talking, observing impeccable etiquette in separating personal and company observations. They eat, chat, argue, agree. Ware straightforward, Marsh quietly amused, Gregory funny. A benevolent board meeting of a (thankfully) progressive and enlightened organisation.
• Notes are taken, opinions alter, aims crystallise. Here are the minutes:
• POLITICS
Politics is all that matters: personal, national, individual, physical and mental. Politics is everything; everything is politics.
What is your favourite colour? "Red", we all agree; Glenn may be fond of pale blue in the cut of his suits but the three emissaries from the Socialist Republic of South Yorkshire are unafraid of celebration of the Left and the promotion of gradual but insistent revolution. Dance Red!
Who's your favourite politician? "Tony Benn (and Ken Livingstone:)" , we chorus. Ware, previously not heeding the need to support the cause in Sheffield, is eager to join Red Ken's Paddington Labour Party: "It just makes sense nationally, now, to contribute to the party.""
A question paralleling the rise of the SDP with recent obsessions towards escapism (New Pop?) momentarily phazes the board but Ware, it seems, has already sussed the wine and cheese set. "It's more like the American trait of media manipulation and the power of personality. Look at Ronald Reagan: what more can you say?"
What's your favourite TV programme? No hestation is observed as top notch visual battlegrounds Weekend World and Question Time take the honours; Robin Day's arena, where party politics is revealed as the hilarious forum of personality and dogma, is entertainment in the extreme.
Political awareness cannot be taught, merely promoted. Ware: "Music can't change much, Maybe it can make people slightly more aware. We are politically interested, not in some trendy leftist way, but because we're all going to be disintegrated soon!" When the board decide to run down their involvement in popular music form, will political action take its place? Ware: "Unfortunately, to be successful in politics you invariably end up as just the sort of person you detested in the first place."
Politics is intriguing. exciting. worrying. The only drawback is that there are no answers.
• INDUSTRY
The BEF encompasses Music, Fashion, Art, Business, Work, Rest and Play. For every output there must be an input; influential signposts both obvious and subconscious determine our eventual attitude and creation. Sources both specific and abstract have been amassed in producing the industrial concept of the BEF and its satellite voice Heaven 17. While musical and visual stimuli obsess Gregory, Marsh and Ware, the importance of other, lesser influences are mulled and argued over.
History: Martyn Ware dislikes any notion of historical or nostalgic reference. "It's a largely futile occupation, studying the past to learn from the mistakes of others, as time and again it's proved that no lessons are ever learned."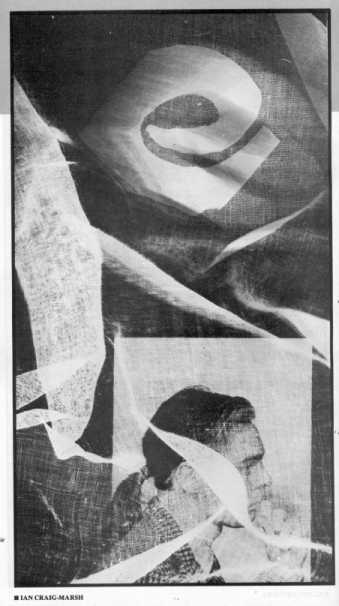 Marsh, who confessed an interest in political history at school, accepts the validity of history on a subjective level, but Ware refutes even further the relevance of the subjective deliberations of historical recorders.
Gregory is silent.
• Art: Is music Art? Don't wave a red rag at a bull. Ware is angry! "I hate the concept, the word. It makes me shudder, it's irrelevant."
A shared view? Glenn admits to a fondness for nice pictures of nice people. Ian mulls over the problem and smiles.
Visual presentation of the BEF products - obviously a unified board decision set the stamp on the whole International Business air. Primarily with the corer of `Penthouse and Pavement (high-rise, business suit, slim attachés, off-the-record discussion in office doorways) allied with direct graphic and formal simplicity. Why then the abrupt departure to the crass sub-Lichtenstein copy art for the 'Height Of The Fighting' single?
Ware: "There's no great significance. It was the first artwork nut specifically done by us and it tied in with the release of the single which was a stopgap anyway. The new visuals will be "quite different."
Music: Phew, safe ground! The Heaven 17 collective gush with enthusiasm at listening and doing. Despite the attention drawn to the other BEF industrial processes, they take a very definite back seat to the primary concern of musical adoration. Essential listening in boardroom and sidewalk (a Heaven 17 Top Ten):
The Jackson- Heartbreak Hotel
Brecker Bros- East Driver
The Specials - Ghost Town
Walter Carlos- Country Lanes
M- Pop Muzik
David Bowie Ashes To Ashes
First Roxy Music LP
Gershwin - Rhapsody In Blue
GrandMaster Flash - Wheels Of Steel
Chic/Sheila B - Spacer
Discussion of the origins of Heaven 17's name reveals the secret long nestling in the BEF collective, creative heart. It is the name of a (supposedly) trashy pop group fawned over by giggling girlies in Anthony Burgess' book and Stanley Kubrick's film `A Clockwork Orange'.
The cult of `A Clockwork Orange' fires Ware to celebrate Kubrick as "the greatest living film director" but prompts his suspicions about the film's total absence in recent years. "They won't re-release it. The government seems to be suppressing it. It goes much deeper than simple claims that Kubrick doesn't want it shown. You can't even get a video of it, except on bootleg."
The BEF go on to heap praise on composer Walter Carlos who wrote a soundtrack for the film which was eventually only partially used. Two separate soundtrack albums now exist.
While musical involvement is at the moment "about the most enjoyable job there is", the BEF's ultimate wish is to explore, experiment and succeed in the world of film. Both celluloid and soundtrack ambition consumes Marsh and Ware; the ambient quality of some of the Music For Stowaways was merely a taster of the desire they have harboured since early Human League days (remember the Human League?)
Filmic inspiration:
AURAL
Suspiria
Assault on Precinct 13
The Shining
Taxi Driver
All Ennio Morricone
Clockwork Orange
Body Heat
2001
Long Good Friday
VISUAL
Raging Bull
Rollerball Jaws
Being There
The Ruling Class
Don't Look Now
Carrie
Lenny
The Exorcist
Work: If film consumes the dreaming hours, those awake are spent rationalising the production of music. Ware: "We are set up along business lines, but that doesn't mean we have no deep regard for the product. We simply work towards a more efficient method of production and organisation."
Marsh: "We discipline ourselves to work, perhaps, 12 o'clock to 12, five days a week."
Ware: "Ultimately we aim to spend about ten months of the year in the studio - not to become just a `studio band', but because if you're working in music, it's the most creative place to be."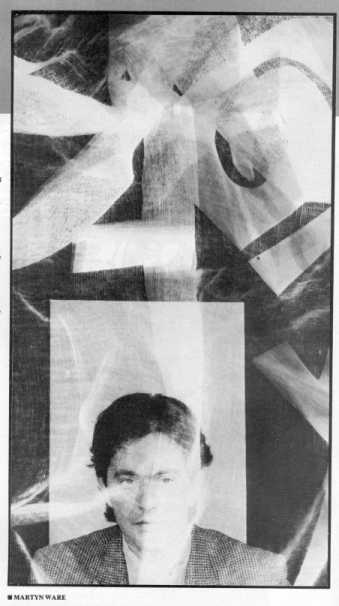 COMPANY PREDICTIONS
'Music of Quality and Distinction'., the title of BEF's next foray, is a fascinating change from the muzak qualities of the `Stowaways' cassette. A favourite oldies compilation starring various established and emergent singers performing to entirely new BEF backing tracks, the project has thrown up numerous problems throughout its gestation and execution. Not only the obvious technical difficulties of performing and arranging the material by admitted non-musicians, but the headaches of organisation and logistics and the business processes involved in bringing such a diverse package together. The finished LP will feature Ball Of Confusion (singer undecided) Secret Life Of Arabia (Billy Mackenzie of The Associates) Ghost In My House (Paul Jones) These Boots Are Made For Walking (Paula Yates) Suspicious Minds (Garry Glitter) You Keep Me Hanging On (Bernie Nolan of the Nolans) Witchita Lineman (Glenn Gregory) Anyone Who Had A Heart (Sandie Shaw) Perfect Day (Glenn Gregory) and It's Over (Billy Mackenzie).
A Sandy Shaw single will precede the record and Ware gleefully announces the intention of releasing "Probably at least four more!" The album sees the first steps being taken towards establishing Glenn as a solo singer in his own right, thus foreshadowing the development of Heaven 17 as a live unit. Marsh and Ware have no intention of performing again, so concert versions will feature Glenn with backing musicians. Emphasis will be placed on a more visual presentation, Glenn not just wanting to "stand up there and sing".
Ware sees the problem of gigging as twofold: it's completely uneconomic (vital consideration in the self contained, tight BEF ship) and there's so little left to do within the format that hasn't been done.
Work on the next Heaven 17 LP is already planned, Marsh and Ware having obtained porta-studios with which to orchestrate their altered vision of Heaven 17's aim. While still occupying a basic electronic soul idiom, there is a likelihood of exploration of a more intense lyrical and vocal format.
Heaven 17 are on the up: they've just begun, barely scratched the surface of the monster they intend to possess. Gregory, Marsh and Ware have the aptitude and humour to create a vital music. They play to win, will win. Unencumbered by the millstones of being either a singles or an albums band, they're able to skip over music biz swamps by the sprightly ministrations of the BEF Game Plan.
Heaven 17 satisfy a need, provoke deeper interest and Please. No More Heroes. But meeting people you admire is still exciting. I admire Heaven 17