ARTICLES AND REVIEWS
Feels Like Heaven in Sounds 11Aug1984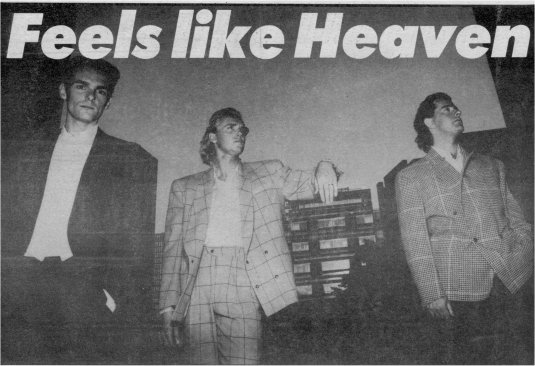 No author, no photographer mentioned in article
HEAVEN 17, those gents with the pop clout and a name culled from Clockwork Orange, release their first single in a year when 'Sunset Now' comes out on Virgin on August 20. Issued in 7" and 12" versions, it's from the third Heaven 17 album which'll hit the cobbles worldwide on September 24.
Like all the new material, 'Sunset Now' is a Marsh / Gregory / Ware song produced by BEF in association with Greg Walsh. The 7" has a flip of 'Counterforce' while the 12 has 20 minutes of new stuff in all: the short and long versions of the A side, two versions of 'Counterforce' (the 7' take is itself a remodelled song called 'Chase Runner' from the Electric Dreams movie - confusing, eh?) and an LP track called 'Flamedown'.
Since completion of the LP the band have been working on a weird video concept with sleeve designer Ray Smith and model-maker John Cauty, the star of which is a fivefoot model which has tiny details of song lyrics and elements of LP sleeve art in operational form(') The group appear in the video in model form only, the set itself being powered by motors and electronic impulses. We can't wait.