The Edinburgh New Music Festival at Jaffa Cake, 28 King Stables Road

Heaven 17 : They're back! Finally - live performances from the Godfathers of Techno. Seminal Sheffield synth-pop, a part of everyone's past now becomes a part of everyone's future. The only Scottish date.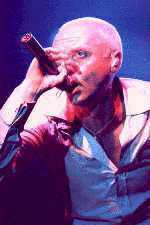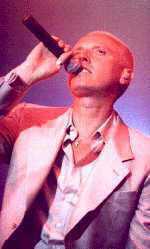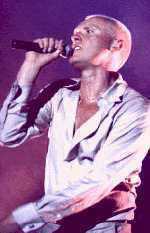 Angie Brown & Billie Godfrey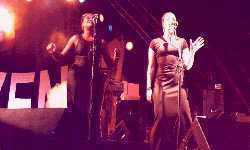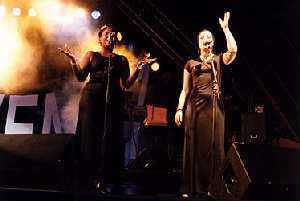 Thanks to Severine for the photos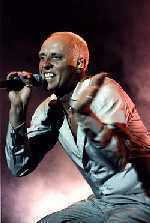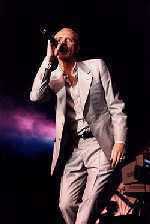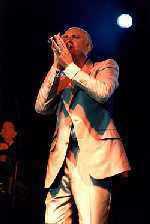 ---
Review by P.Cooper
Good to see Heaven 17 are alive and kicking again after all of these years.
For those of us who bought "Penthouse and Pavement" when it first came out, this performance was a bit of a nostalgic treat.
As well as the trusty old favourites, probably about 30% of the content of the performance consisted of new material (which sound just like the originals! - but judge for yourself) and two records were covers.
Although the ticket announced a 8pm - 11pm show, Heaven 17 were on stage from 9pm to 10:20pm, with a very creditable performance by new guest band "Haze" (sorry lads if spelling is incorrect) preceding it. I would have liked to see audience get longer for their £12 (no concessions). How about more tracks from those historic albums? How about another dose of Temptation - the audience loved it, with many only having come for that reason. Please, how about an encore this time? C'mon Glenn, 15 years is a long time! Give us more!
Venue notes
Sorry, the sound quality was pretty bad and many folk were clearly suffering with the heat. On the plus side, it wasn't too packed and the staff were friendly.
---
Review by G.Young
Crushed by the wheels of mortgages and in-laws, the gathering of the thirty something audience was a joy to see for a fantastic show by Heaven 17. Along with some of the old songs, there were a few new ones in the set, catchy little numbers which I know I'll be buying on the new CD whenever it comes out. By the time the band reached the end of the set, the place was jumping to "Temptation", and then a couple of classics rounded the set off. We yelled for more, but unfortunately, we didn't get it. Heaven 17 had left the stage, far too soon for the audience's liking. The venue was brilliant, the kind of club I've grown up with - sweaty, hot, plastic glasses and carpet that sticks to your shoes. It couldn't have been better. I'm glad I was there.