---
AUDIO TRACKS (the same as on the fan CD "Live At Last")

Fascist Groove Thang (5:45)
Crushed By The Wheels Of Industry (4:39)
We Blame Love (3:40)
Come Live With Me (4:00)
Freak ! (4:07)
Let Me Go (4:10)
Let's All Make A Bomb (4:40)
Penthouse & Pavement (5:15)
Designing Heaven (3:53)
Temptation (6:45)
Being Boiled (4:37)

CD-ROM VIDEO TRACKS

Let's All Make A Bomb (4:41)
Do I Believe (5:00)
Play To Win (4:41)

from the video which was filmed at the gig in
the "Sound Republic" 18.Mar.1999
---
---
---
...17 years later, and for the very first time ever, were going to play live...

So here it begins, a sunny day. We're outside Martyn's house with all the equipment ready to go, having spent the last 12 weeks re-working and re-programming and re-arranging a selection of favourite Heaven 17 songs both old and new for the delight of out first ever audience.

Our first concert (I can't bring myself to say gig) is to be in Norwich. We're waiting for the tour bus ... oh God those two words... tour bus, such a picture springs to mind, you know those big, long, sleek, satellite T.V. bedecked, private room, stereophonic, fridge freezer, 14 wheeler's, that you've seen parked at the back of the City Hall every time you go to see a band. Well, what came around the corner, was certainly not one of those.

It looked like a big blue chip van, admittedly it had black tinted windows, but for heaven's sake it said "Good Rockin Tonight on the side. Oh well I suppose finally now after 17 years, we just might be about to enter the real world of rock and roll.

Standing back stage listening to our intro music I feel very nervous, but having insisted on doing two weeks rehearsals (weekends off naturally, no need to go too far) I do feel pretty much prepared both physically and mentally. All the lyrics memorised, and due to some uncharacteristic running my fitness was at a level it's not seen since I came third in the two hundred metres on a school sports day in 1975. Yes l was ready.

However the one thing I was not prepared for was the cheer and applause of the audience as we walked on stage, I couldn't believe it, all I kept thinking was "no way, this is a joke all these people it must be a set up". But no, the concert went really well, the audience loved It, in fact they seemed to enjoy it almost as much as I did.

One of the great things about playing live after a 17 year wait, is the fact that we get to go back and re-invent some of our old tracks it's made me really enjoy the music again. some of the early Heaven 17 songs I only ever got to sing three or four times in the studio, well maybe more if I was being particularly crap and untuneful on that day, but generally that was it. 0f course a real bonus for me is that we do a version of the Human League track Being Boiled which has always been one of my favourite songs.

Since that first performance, which was in April last year. we have performed in front of about a

million people, we've played most of the large Arena's in Britain, when we were guests on the Erasure tour and have played lots of other smaller venue's and clubs. We were also incredibly lucky to find two brilliant singers Angie Brown and Billie Godfrey who have really contributed to the whole Heaven 17 live sound.

So the question must be why did we wait so long to play live, and the answer must be...?

choose your own:
We were always very busy outside of Heaven 17 we never had time to put together a live show.
We made a conscious decision when came together not to play live until seventeen years had passed.
We were too lazy.
The technology was not there to enable us to successfully put together a "Heaven 17 sound" live on stage
I couldn't decide what to wear
A combination of all the above.
Whatever the reason I can honestly say I wish we hadn't waited so long because I absolutely love it.
Glenn
---
Snapshots from the
three videos from
this CD can be
found at the local

page.
---
Adverstisement in UNCUT MAGAZINE December 1999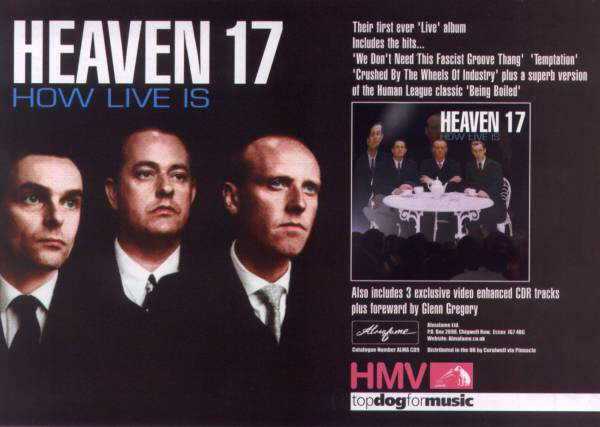 ---
US release in September 2000


Click here for enlarged version, it's worth the time ;-)
Contents of the CD are identical to UK release, just the packaging is different.

Review in LEXICON #17 : The mouthful of a title is merely a new label put on last year's "How Live Is" disc that first saw light as a fanclub-only CD. This is the same as the U.K. version, adding three concert videos in CD-Rom format. It also features different cover artworkand a strangely cheesy photo on the back left over from some mid-'80s "live" TV appearance by the band.
As live albums go, the sound is good, better than last year's effort by ABC - with most of the music simply pre-programmed playback, it had better be! Frampton can rest easy however. Fans of the band on too tight a budget to fork over the $25 for the import will be happy to be able to now pick this up domestically.
---
German re-release in October 2001

Contents of the CD are identical to UK release, just the packaging is different.
---
US re-release in November 2001

The contents of this CD are identical to the UK release, just the packaging is different.